Summer is just around the corner, and a successful quarter is within reach of your business!  We've got ten tips and tricks for you to advance your marketing strategies this season.
Holiday promos  → Give your customers all the more reason to celebrate summer occasions with holiday-festive sales!  There's no better way to wish shoppers a happy Independence Day, Father's Day, or back-to-school season than with customized emails – especially when those emails offer promo codes and coupons!  SnapRetail has hundreds of templates to choose from, and you can select any combination of images from our library of summer-ready stock photos (or use images of your own!) so that you can streamline your message to your liking.  In no time, you'll have a promotional email that doubles as a friendly invitation for customers to celebrate the holiday at your store!
Block party email → Celebrate summer! Why wait around for the holidays to market your business?  Your shop has plenty to offer every day, and customers will be on the lookout for sales and events all season long.  Take advantage of these warm-weather months and host a sidewalk sale – or better yet, coordinate with neighboring businesses to promote a can't-miss block party!  Gauge your incoming foot-traffic with SnapRetail's RSVP widget, which embeds a reservation button into your promotional email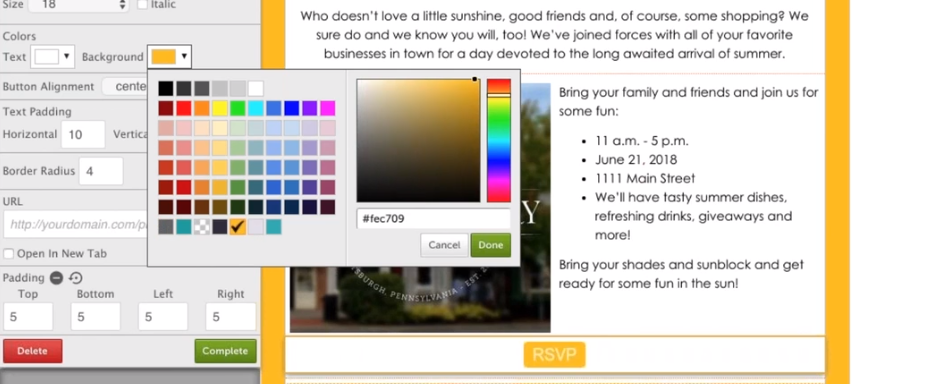 From there, you can schedule the release of this email (and any others, of course) down to the day, hour, and minute that you want to spread word of your sale.  You can also upload the content to Facebook, Twitter, and any other social networks you've synced up with SnapRetail in one easy step.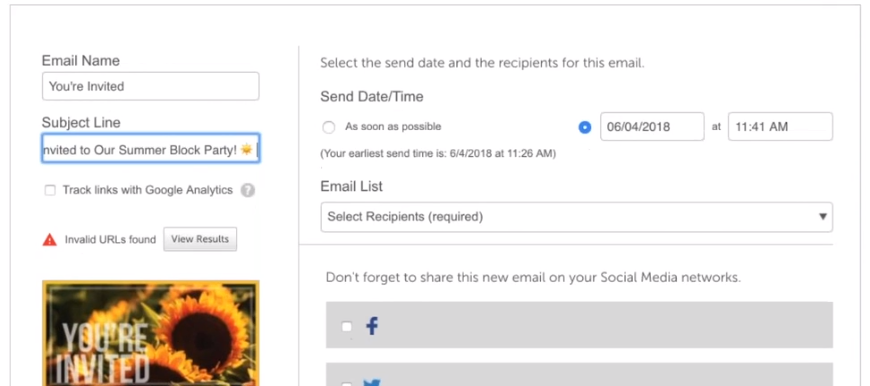 Celebrate USA-Made products → The summer months are perfect opportunities to lend extra attention to American-made products!  Make the most of Memorial Day, Flag Day, and especially Independence Day to promote your store's Made-in-the-USA merchandise. This event in particular is a win-win for your business and for domestic producers nationwide, whether your promotion is holiday-exclusive or a month-long celebration of the USA!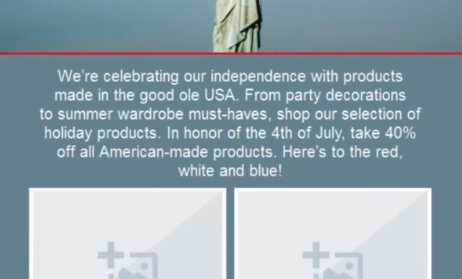 First-come first-serve sales → Ring in the summer and give your shoppers some extra incentive to stop in with a first-come first-serve sale!  A time crunch can be just the right challenge that piques customers' interest, thereby enhancing your promotion's call-to-action.  Whether you're offering $10 off or having a BOGO flash-sale, a great discount is certainly worth it to beat the clock!
Open-House → Host a summer open-house!  Invite shoppers into your store to see your newest seasonal merchandise and summer-festive displays.  You could specify a date and time within your email invitation and, using the RSVP widget, formalize the event so you can legitimize the call-to-action and get valuable foot-traffic to your shop.  Effective ways to incentivize visits to your store include giveaways, sales, and releasing your latest-and-greatest products.  Spread the word: summer is here and so is your business!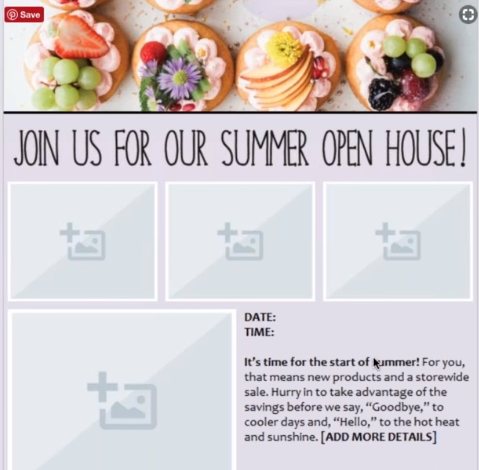 Summer Style Guide template → Give shoppers a sneak preview of your store's collection!  An email that categorizes a few of your products also serves as an invitation for buyers to explore what else may be available for sale.  Whether you feature your merchandise by item or occasion, this promotion's format as an excerpt from a catalog is sure to garner interest.  Customers may even find exactly what they've been looking for right in your email!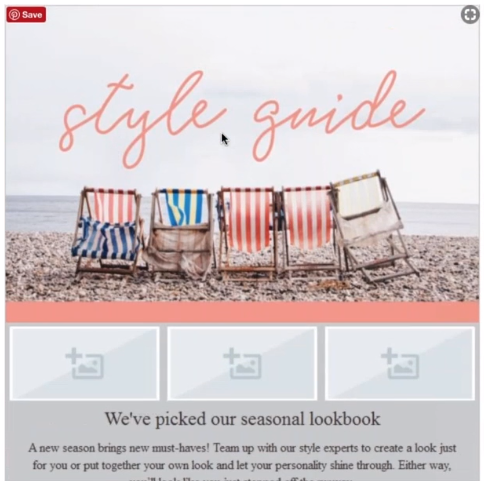 Contest → This is a promotion that you will especially want to reach guests beyond email!  Reach out to your customers on Facebook, Twitter, Pinterest, and any other network and offer a different call-to-action: entry to a contest!  Shoppers love a social media contest because it costs nothing for a chance to win some of the season's latest home decor, accessories, or furniture!  Simply communicate your guidelines for entry and winner selection – and start a hashtag for the event to really engage with users!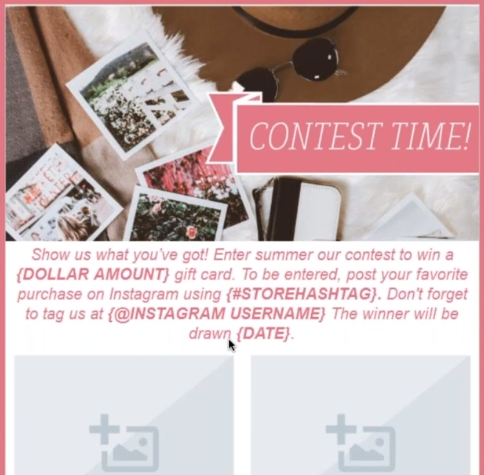 New arrivals/staff favorites → Don't forget to share your business's newest products and developments!  The turn of each season is the prime time to promote your latest arrivals, so take advantage of this upcoming summer by letting your customers know what products and/or services you've been working on.  Use one of our templates to customize an email that invites shoppers to the store for your seasonal debut – and for an added personal flair, throw in a few of your employee's favorites! Putting a spotlight on specific products will be sure to excite shoppers' curiosity for what other merchandise may be available!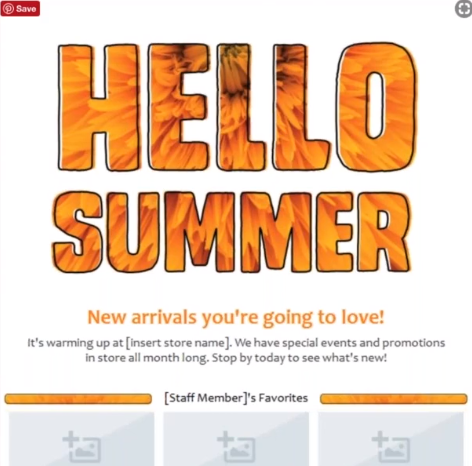 Snap Retail's Summer Promotions Kit → SnapRetail provides an exclusive summer promotions kit that can put your summer marketing strategy miles ahead of your competition, with events such as Christmas in July, Ice Cream Day, and more!  Every holiday is worth celebrating, so get creative with each special occasion. You can incorporate your products or business message in the event, or, for days like Ice Cream Day, just have ice cream on hand for your customers!  Each of these occasions will be readily available for you to view in our calendar feature.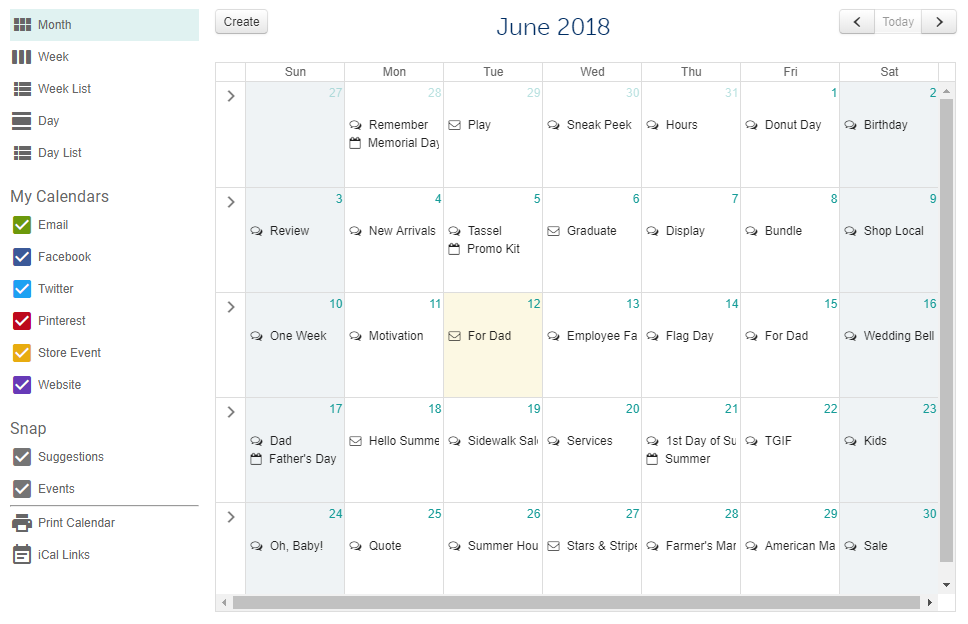 Sunny Savings → Don't forget about your cyber shoppers! Host a summer sale on your website for customers who prefer to buy online.  An email invitation to this event is particularly effective because it puts shoppers just clicks away from your products.  "Shop Now" buttons and photos of in-demand products create just the right call to action for customers to take you up on your offer!  Create your message in just seconds with our Sunny Savings template, as shown below.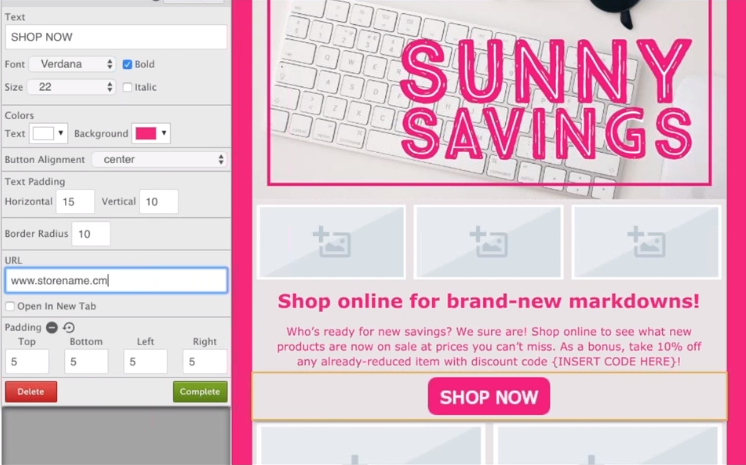 Above all else, ensure that you coordinate interaction with customers at every opportunity – whether to celebrate holidays, announce new arrivals, or invite them to in-store events.  With these ten strategies and SnapRetail on your side, your small business will be unstoppable all summer!