Stop wasting time logging in to multiple accounts
Make your social media presence work for your small business, even when you're not online. SnapRetail takes the guesswork out of what to say to your customers and integrates all of your favorite social media networks into one powerful tool. Focus on sharing content, not switching between accounts.
Marketing That's Done for You
We give you a monthly marketing calendar full of ready-to-send social and email ideas.
Say goodbye to planning
Each month, social and email ideas are placed directly on your marketing planning calendar. Click to schedule. Done.
Something to say every day
We give you ideas for each day of the month, helping keep you engaged online and with your customers.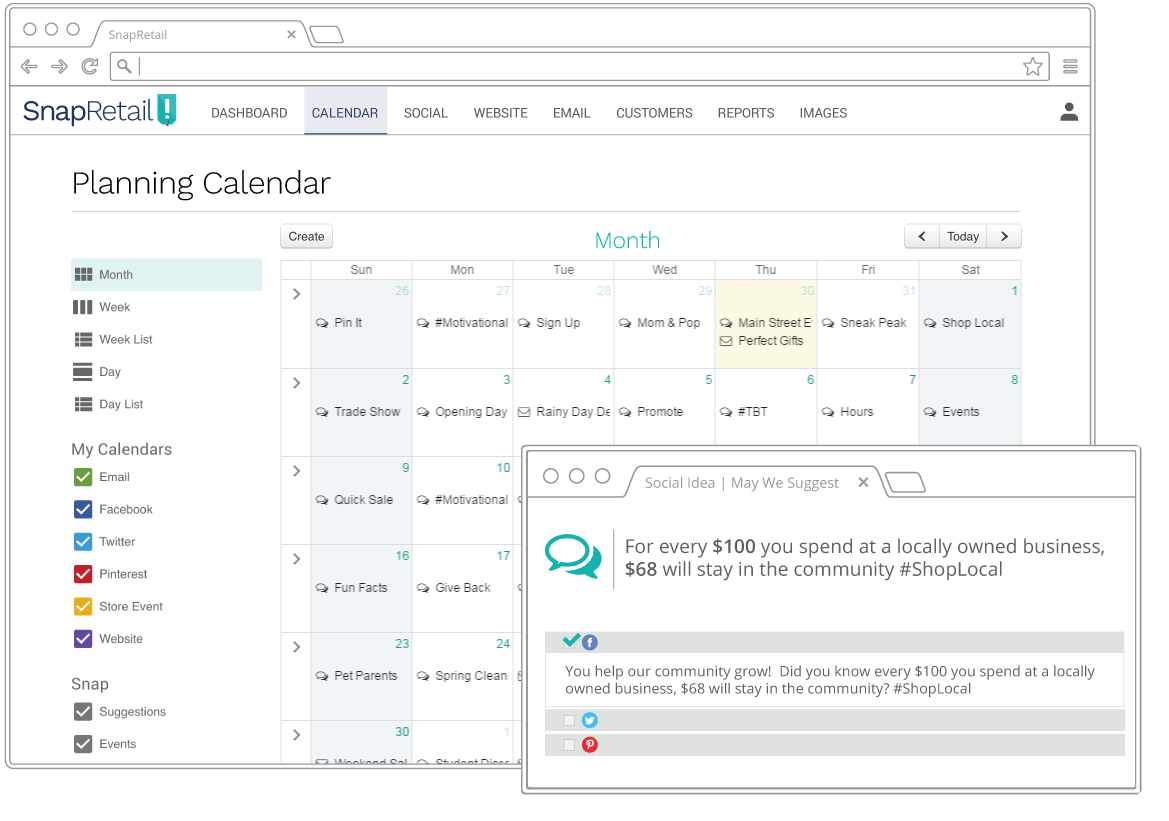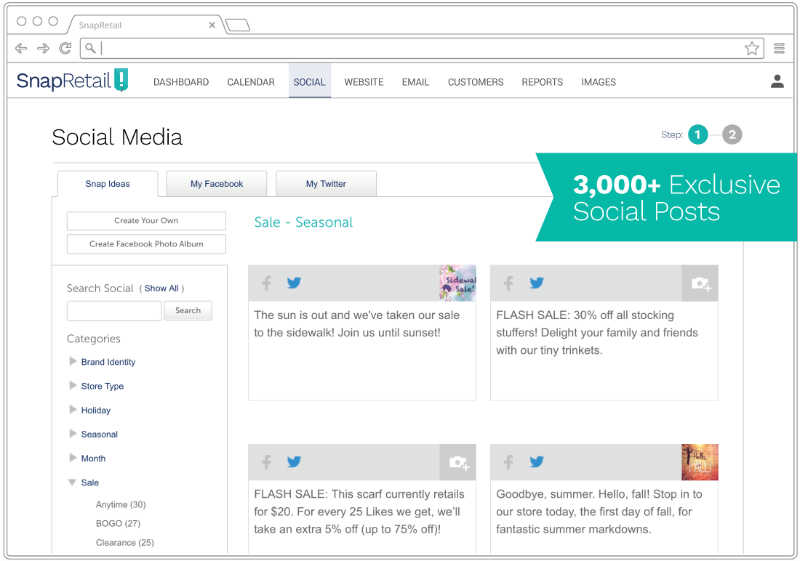 Ready-to-Post Social Content for Your Small Business
Struggling with what to say online? SnapRetail's social content library is just what you need to stay connected with customers online without spending hours on Facebook, Twitter, and Pinterest.
Small business-specific social posts
With over 2,000 pre-written small business specific posts, you'll always have something to share with your customers.
Free stock images. Always
You'll get access to over 1,300 stock images, making it easier than ever to find the perfect photo for your social posts.
Save Time with the Planning Calendar
When your business schedule gets backed up, your social profiles keep moving forward. Click on any date to schedule your social posts or drag-and-drop to tweak your small business marketing schedule.
No limits to scheduling
Plan your marketing by the day, week, or month. We have no limits.
Share the events you want
Our planning calendar lets you share scheduled events with anyone through our iCal links.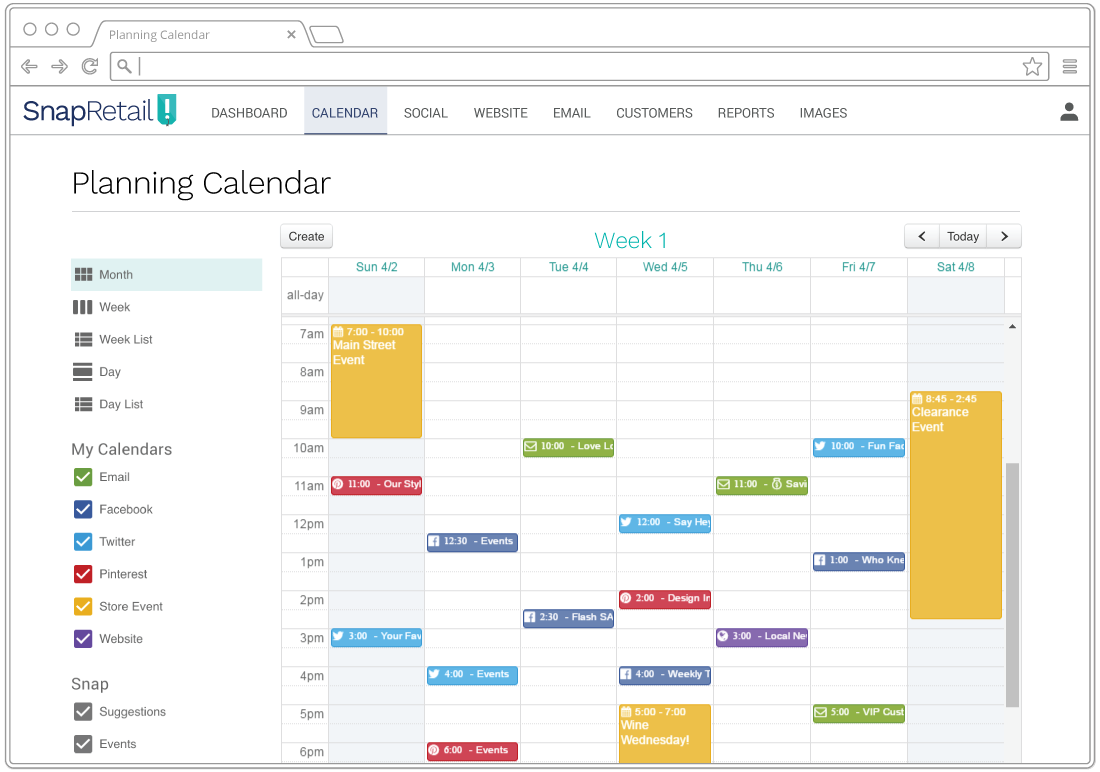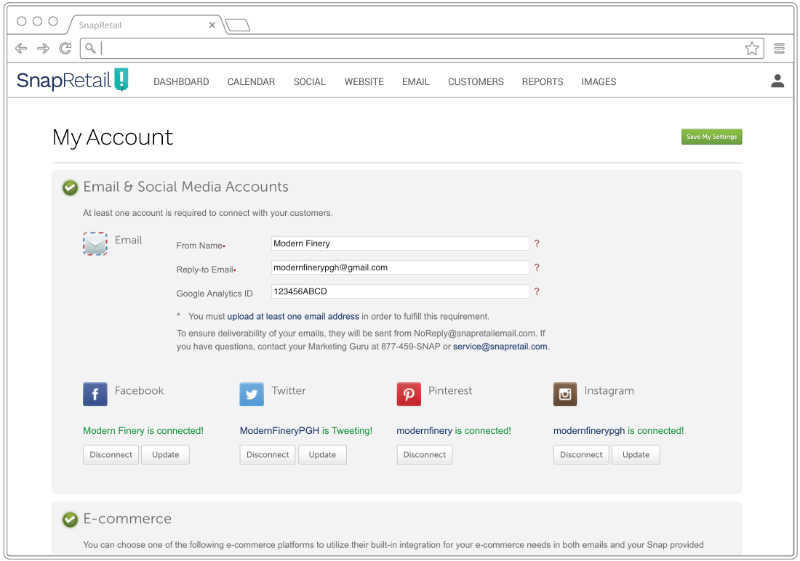 Streamline Your Small Business Social Media
When it comes to social media, there is no such thing as oversharing. SnapRetail saves you time by integrating all of your favorite social media outlets into a single, easy-to-use platform.
Schedule Facebook and Twitter posts
Save time by scheduling all your Facebook and Twitter posts in one place.
Schedule your Pinterest Pins and boards
Create new boards or schedule pins to existing ones with a few clicks.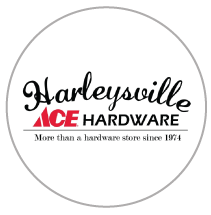 We love how the scheduling system makes it incredibly easy to plan out social media in advance. Not sure how we managed before Snap!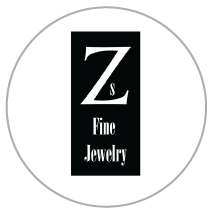 SnapRetail makes my life so much easier! It would take me twice as long to do things without!
Let's Grow Your Business Together
Book time with an expert to get started today!