A guest blog post from our friend,
Jessica Thiefels
Many retailers agree that coupons are an effective way to bring people into their stores. But some merchants see coupons as a nuisance that only serve as a hassle for lowering profitability.  
It's likely that these anti-coupon companies have had a bad experience and didn't use the many new tools and apps that help make coupon use a big win and almost never a loss.
CouponBox conducted a large survey of nationwide U.S. retailers about their use of coupons, and the results were staggering. Retailers reported bringing in $29K, per month, from coupons alone, with an approximate revenue increase of 40 percent.
What's more, they found that the most effective coupons—those with the highest returns—are site wide coupons, with 67 percent of retailers agreeing on this. Other offers that can also be successful are:
New customers only

BOGO (buy one get one free)

Minimum order value

Limited to specific customers
Keep this information in mind as you learn more about how to make your coupons more effective. When you combine best practices, industry data and company goals, you'll watch the sales come pouring in.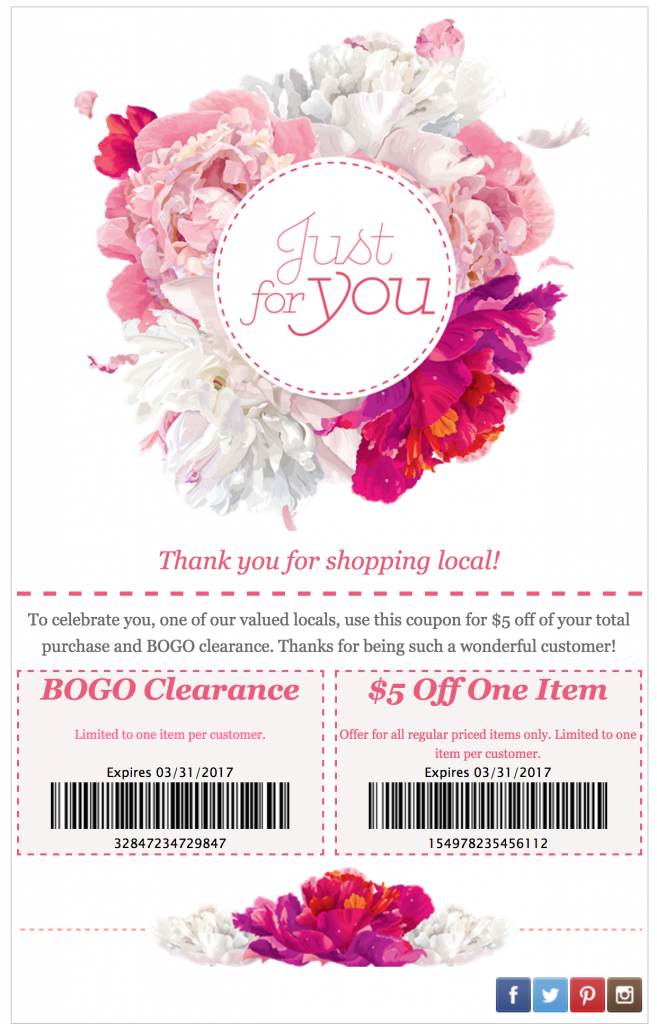 Follow the Top Best Practices
There are many other best practices store owners and managers should follow:
Know what your customers want. Use an email or website poll to ask them directly, which is easy to set up and will likely yield some interesting data.

Make sure the coupons or offers align with your business goals. If you're focused on a new product offering, create coupons that push sales toward that. Other goals may be to reach new customers, increase long-term revenue, or up-sell higher-margin items.

Don't over-use coupons as a sales and marketing tool. Consumers may begin to expect a discounted rate on your high-quality service or product, and only shop with you when they get a coupon.
Appeal to Your Mobile-Forward Customers
Two household name brands have gotten great press and reviews about their shopping/coupon apps: Whole Foods and Target. With their app customers can search for discounts, browse new products, and more.
The Whole Foods app lets customers find deals throughout the store. When shopping, the customer simply scans the barcode from your app at the checkout with their phone—no printing or cutting necessary. This app also provides shopping lists and recipes, allowing Whole Foods to show their value and build loyalty.
Target's Cartwheel app works in a similar fashion. In addition, shoppers can scan an item's barcode with the app to see if there is an additional discount. This keeps them engaged in the store, and may encourage them to purchase more.
While these are large, global companies, it's always important to know what successful retailers are doing to consider how you can do something similar, on a smaller-scale.
Distribution is Key
Creating great discounts is the first step. Getting those coupons to your current and potential customers is the next. This is why distribution is critical in developing a coupon strategy that works. Luckily, there are a variety of outlets you can use to get your coupons in front of the right people. Here are a few options to consider:
Partners: Tools like Honey, a browser extension, show online shoppers coupons and discounts specific to that retailer when checking out online. This is an easy way to get coupons in front of the people who are most likely to use and appreciate them, while surprising these shoppers with a discount they weren't expecting to get.
Email: If you have a large email list, segment it, and send appropriate coupons to the customers who would find them most valuable. CVS sends at least one coupon email a week, if not more, and makes it easy to use them in the store without printing anything.
Social: Use your most popular social outlets to share exclusive discount and coupons. "Want 20% off your next purchase? Use FacebookFan2016 at checkout!"
Website: Most major retailers promote various discounts as a banner at the top of their website. If you use this tactic, make sure the banner is sticky, staying with the customer as they browse around the site.
Coupons have a chance to bring in more revenue, attract new customers, and build loyalty with the ones who already shop with you. Make these valuable marketing tools more effective by considering what your business needs and customers want, while improving distribution so your coupons are both seen and used.
Start using coupons in your marketing emails now!
About the Author
Jessica Thiefels has been writing and editing for more than 10 years and spent the last five years in marketing. She recently stepped down from a senior marketing position to focus on growing her own startup and consulting for small businesses. She's written for sites such as Lifehack, Inman, Manta, StartupNation and more. Follow her on Twitter @Jlsander07 for more small business tips and marketing ideas.