Hackers and identity theft? It's no wonder why small businesses are nervous about the tech world. Not only is it intimidating to put your brand online, but you need to be very cautious with your login credentials and passwords. With the recent launch of our Instagram integration, we wanted to run through some of the basics of keeping your account secure while marketing online. One of the best ways to keep your accounts secure is with two-factor authentication.
First, what is two-factor authentication?
In simple terms, two-factor authentication adds an extra layer of security to every online platform you access. The first layer of security is generally a combination of a username and password. When you add a second step of authenticating your identity, it makes it harder for an attacker to access your account and info. The second step requires a special login code or a unique confirmation of your login attempt each time someone tries to access your account from a new device.
Second, why is it important?
Two-factor authentication drastically reduces the chances of fraud, data loss, or identity theft. Passwords are the mainstream form of authentication, but they're far from perfect.
According to Secure Swiss Data:
90% of passwords can be cracked in less than six hours.

Two-thirds of people use the same password for all their accounts

Sophisticated cyber attackers have the power to test billions of passwords every second.
Two-factor authentication creates a vital second barrier in the case that your password fails.
So how do I turn it on for my Instagram account?
Go to your Instagram profile and click on

 Settings.

Tap Privacy and Security and then scroll down and tap Two-Factor Authentication.

Tap next to Authentication App, then tap Get Started.

Choose where you want Instagram to send a security code when confirming the account.

Instagram will send a 6-digit code to your phone or authentication app. Once you receive that code (it should happen within a few seconds) go back to the Instagram app, tap Next and paste the 6-digit code to complete the process on that device.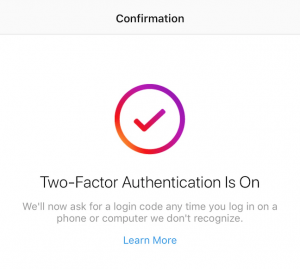 And with that, your account is set up!
With SnapRetail, you can keep your account safe and schedule your Instagram posts ahead of time!