What is a Hashtag?
A short keyword or phrase preceded by a pound sign (#).
By preceding keywords or phrases with a pound sign (#), it makes the term clickable and will automatically search for related content using the same hashtag.  Hashtags do not include any spaces, special characters, or punctuation. However, numbers can be used in hashtags.
Quick tip: Capitalize the first letter of each work when using a phase as a hashtag. #BohoChic will not generate different results than #bohochic, but it will make it more readable.
What is the Purpose of a Hashtag?
Hashtags are used to categorize and sort content on Instagram.  They make it easy for businesses to reach their target audiences and allow users to easily find and engage with content they are interested in.
Hashtags are most effective when they are focused, descriptive, and concise. For example, #Jewelry is short, but not very descriptive. A more effective hashtag would be #EngagementRings to describe what is being posted.
How Do Users Typically Use Hashtags?
An Instagram user may search or click on a specific hashtag to find related content. The more specific a hashtag is the more likely the user will find content that they are interested in. When users are interested in content they are more likely to engage with the content with likes, follows, or even by becoming a customer.
What Should I Use to Create My Business' Hashtag?
Incorporate a hashtag into your business' identity much like you would a logo.  A brand-identifying hashtag will allow customers to easily remember and recognize your business.
Do a simple search on Instagram to make sure the hashtag you want to use is not already being used by another brand. If it is, get creative and make it unique to you. Try adding a location or other identifier.  Once you choose your hashtag, make sure you use it consistently.
How Many Hashtags Should I Use on Instagram?
Instagram has a 30 hashtag per post limit.  However, most Instagram content does not use 30 hashtags. By using at least one hashtag, post engagement will increase by 12.6% on average compared to posts using zero hashtags.  Some studies suggest using 11 or more hashtags is the sweet spot, increasing post engagement to nearly 80%. Try using anywhere from 7 to 30 hashtags and see which hashtags and number of hashtags work best for your business.
Some marketers think that using too many hashtags is distracting or makes a post look spammy. Some ways to avoid this is by including a few blank lines after your caption before adding hashtags. This causes hashtags to be hidden behind a "read more" option.  Another way to use hashtags is by placing them in a comment after the image is posted to Instagram.
How Do I Research Popular Hashtags on Instagram?
Go to the search screen, click into the search bar, and navigate to the Tags tab. Enter a hashtag in the search bar at the top.
Results will show related hashtags, ordered by popularity. You can see how popular a hashtag is by looking at the number of posts under each.
Click on any search result to see the most recent and most popular content using the hashtag. If the content is similar to what you post, consider using it for your own content. You can also follow hashtags to keep up-to-date with what others are posting in this category.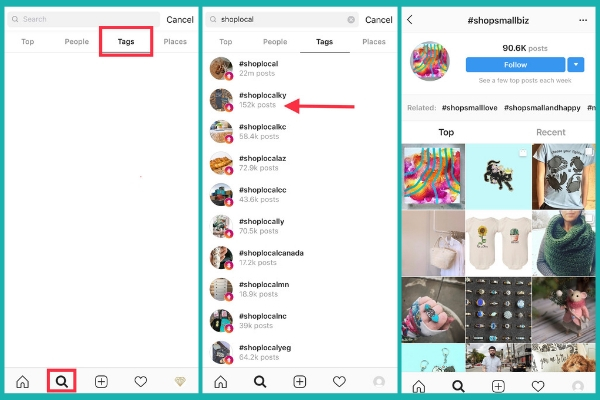 Save time with SnapRetail!
Learn how you can schedule your Instagram post with our all-in-one marketing tool.