Emojis – those little symbols appearing in text messages everywhere. However, start to imagine emojis in email subject lines too! In the mess of numbers, letters, email address and more, an emoji can break through the monotony and say, "Here I am! Open me first!"
A recent case study by Experian said, "56% of the brands studied showed an increase in open rates when using emojis within the subject line."
Beyond higher open rates, do emojis have other benefits? Have you thought about using them but never knew how? We're sharing some of the benefits, considerations and tips when using emojis in a subject line.
Emojis Have Benefits
Shorter Subject Lines
Every store owner knows that customers continue to open emails on many devices – including mobile. According to Litmus, 53% of emails are being opened on mobile. Because of the smaller screen size, subject lines need to be short, compelling, and understandable. Using an emoji helps convey an idea (for example, a sale) in one character. This saves space and helps your email get noticed faster.
Increased Brand Awareness
While using emojis in a subject line can help break through the inbox clutter, it also can increase brand awareness. This awareness can grow even if the email is not opened. AlchemyWorx studied the impact of non-opened emails on sales. According to the study, the Nudge Effect, "Sending an email communication featuring your brand name, and a subject line…can still influence a purchase decision."
Should You Use Emojis? What to Consider First
Know Your Target Market
Before inserting emojis into the subject line, ask yourself, "Will my target market be receptive?" When marketing to Generation Y or the Millennial generation, the chances of emojis resonating are much higher than a Baby Boomer. Paint a mental picture of your target market before quickly throwing emojis into the subject line. Will they understand them?
Analyze Your Brand Image
Your brand image needs to be upheld on everything that you do. With that said, emojis are not for every inbox and company. If a lawyer chooses to use emojis for a subject line, he or she might seem unprofessional.
Emoji Tips
Make it Relevant. Make it Understandable
Before throwing every popular emoji into your subject line, first consider if the symbol adds value or complicates the message. For example, Econsultancy showed that the sun [SUN] symbol increased open rates by 20.95%; however, using that symbol in a winter flash sale would be confusing.

Instead, be creative and find an emoji that complements the message.  With so many to choose, you'll be certain to find one that makes the cut.

Shopify recently used both a dollar and money emoji to showcase two of their emails.

Don't ☠ Yourself
While placing an emoji or two into a subject line can have a direct benefit on open rates and engagement, it can also be quickly overdone or die off fast. The goal is to stand out in the inbox, but that doesn't mean screaming symbols email after email. No one wants to be that store. Remember, only use them when it makes sense or enhances the subject line impact.
Test Emojis
Before sending out your email, make sure to test the subject line on a few devices. Not all email clients show emojis the same, and some do not support them. If this is the case, the customer will see a box character. You want your subject line to make sense, even if the email client doesn't support the emoji display.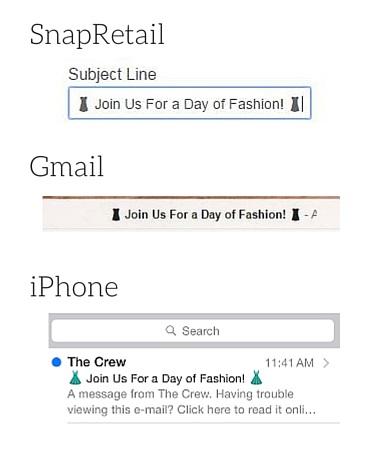 Inserting Emojis Into Your SnapRetail Subject Lines
Ready to add emojis to your email subject lines? The simple tool you'll need: copy and paste. First, find a site that contains a list of emojis, like GetEmoji. Next, find an emoji that you would like to use and highlight it. After, right click on the emoji and select copy. From there you can simply paste it into your SnapRetail email subject line! Simple. Quick. Effective.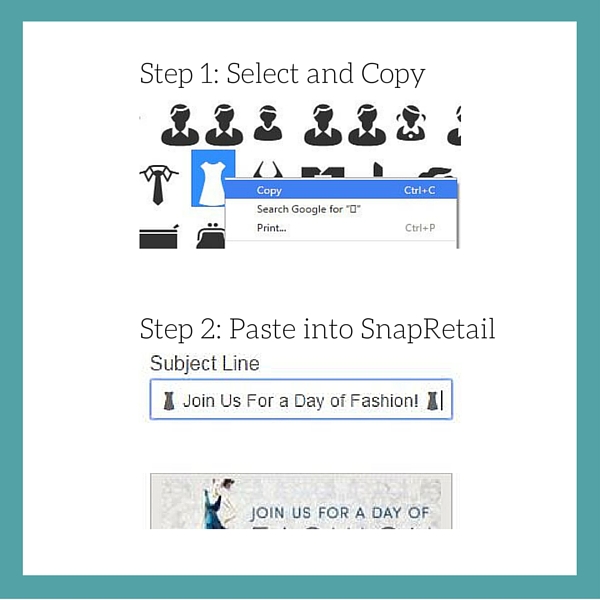 What are your thoughts on emojis in subject lines? Have you used them before and noticed an increase in open rate, or are you thinking about using them in the future? Let us know your thoughts below. We would ♥️ to hear more!