Analytics: The dreaded word that brings up thoughts of numbers, equations, and all that you hated about high school math. While this is still true for a bulk of the cases (kidding!), understanding the impact your business has on social media is a major necessity in this numbers-driven world.
Which brings us to Pinterest Analytics! Yes, seeing your Pins being Repinned is a measure of success, but knowing more can help you change the way you do business online forever. Since Pinterest is a growing social platform, with over 70 million monthly active users and 50 billion pins across 1 billion boards (according to LA Times,) it is best to get as much information as you can to grow and build your brand while riding the marketing adoption curve.
Below are some key points and numbers to find out more about Pinterest Analytics and how to better understand your business on Pinterest.
Pinterest Analytics: An Overview
Creating or Converting a Business Account
First thing – you need a business page to gain access to the analytics section. We talked about creating that account in our earlier Pinterest Basics blog, but if you want to jump right into it, you can start the conversion here.
What You'll Learn from Analytics
The Pinterest analytics page is divided into three sections: Profile, Audience, and Activity. With each section, you can start to see what pins and boards people love most, who your audience is and what their interests consist of, and referral traffic from your website.
When first logging into the Analytics section, you'll be taken to the main dashboard. Think of this as the appetizer to a really good meal. This section is enough information to get you excited, but not enough to fill you up. Each of the three main sections shows two key metrics with a small graph attached. Whenever you are ready to see more, just give each section a click. Let's start with Your Profile metrics
Pinterest Profile Analytics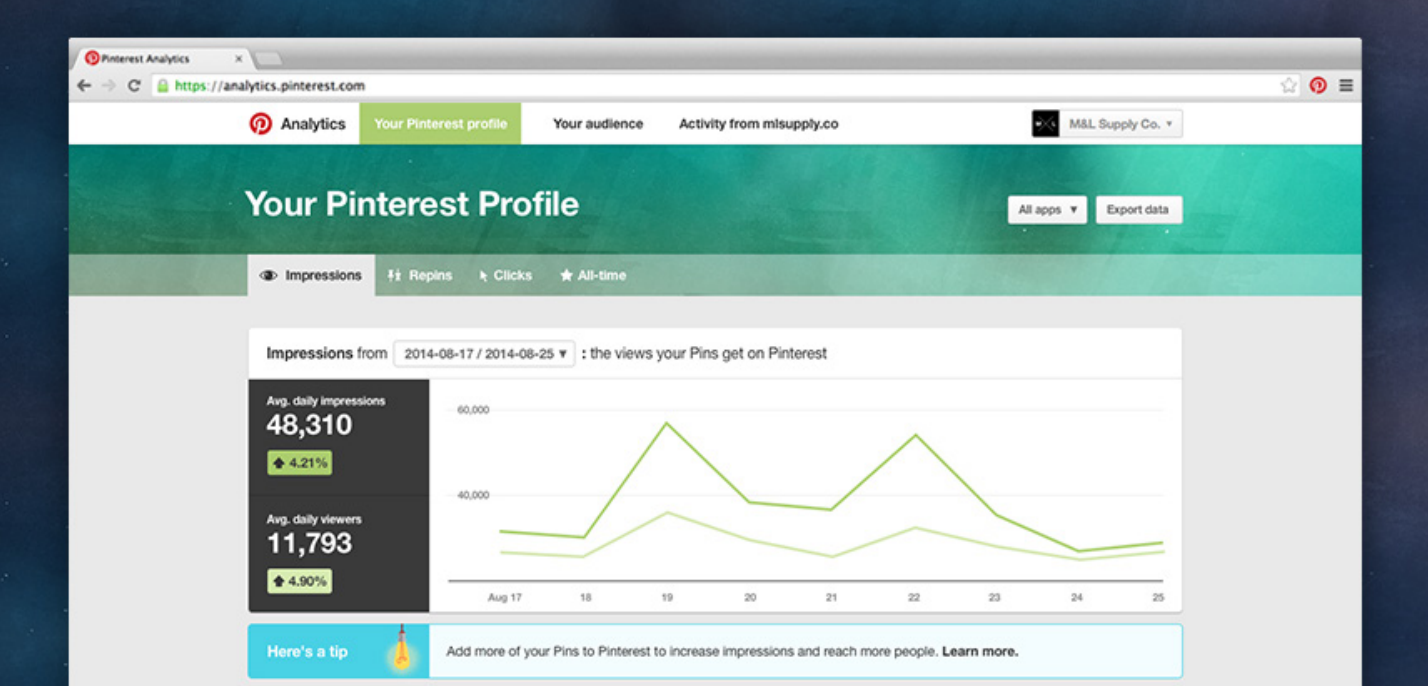 (Source: Pinterest for Business – A Guide to Pinterest Analytics)
Impressions
The Impressions area shows how many times your Pins showed up in a person's Pinterest feed. If you are more of a visual person, like I am, the graph you see will give you a view of this metric over a specific time frame. However, you have the option to select that time frame in any section (maybe you want to know what your impression numbers were last Christmas, for example). Below that you'll get a chance to see both the Pins and Boards that received the top impressions within that time period.
While this metric is great to increase (by Pinning, Repinning, and growing your following), it is only part of the marketing metric story.
Repins
The Repins section gives you insight into how your pins are doing beyond the impressions. First you need to know that people do see your pins, but here you can see if they take action beyond the view. The Repin section is the conversion point that you look for in your store (or online.) Someone can walk into your store today but not buy anything. But, if they come in and make a purchase you've won!
Clicks
Clicks, like Repins, show an action beyond the Impression. The story with Clicks, though, is beyond a simple Repin. Pins that receive more clicks show content that people want to learn more about – especially if those pins are linking back to your website. This why it is important to include a click-through link on all your Pins.
Now that you know how people are interacting with your current content, what about what other things they like beyond that?
Pinterest Audience Analytics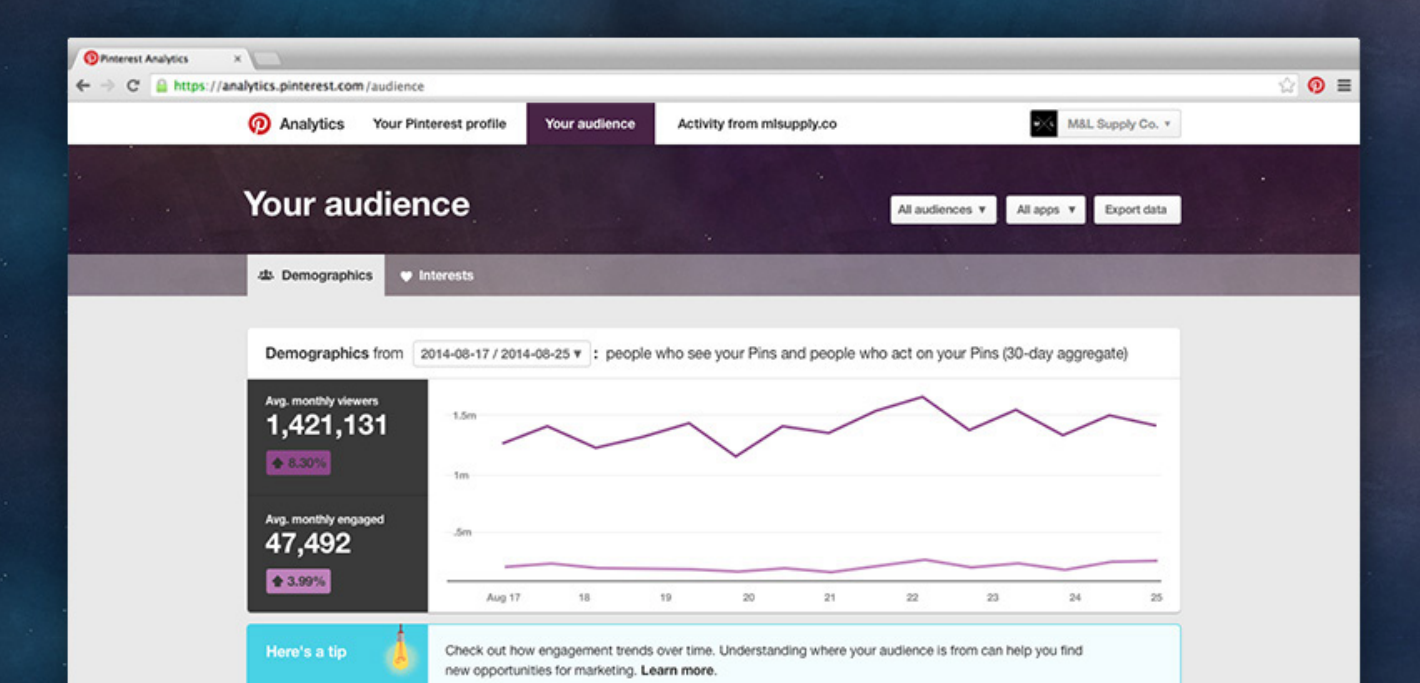 Source: Pinterest for Business – A Guide to Pinterest Analytics
Demographics
The Demographic section of your Audience Analytics is the best area to see deeper into your market and how to take action and grow. The Viewers section here will let you know who has at least seen one of your pins. Taking it to the next level, the engaged section will let you know anywhere who has Liked, Repinned, sent, or clicked on one of your Pins. Just like the other areas, the engaged section is the conversion that you are looking to grow.
Below that you can start to break down your audience even further by Country, Area, Language and Gender. While it seems very broad, this piece of information lets you know a great deal about your following. For example, the Metro section gives the detail into what areas your market falls into. You may have never been to New York before, but a large following may exist in the city. This fact can help you position your business to maybe attend a show in the city, increase Facebook Ads specifically to that area featuring your Pinterest boards or products, and more.
Interests
People are more than just where they live. The Interests section is the best at telling the second part of the story: psychographics or who people are. What do people like and what are they interested in overall? Now you can answer the question, "What should I be Pinning more of or what other boards should I be creating?" Interests can show you what other general topics your audiences are into and what Boards your Pins are being showcased on in the Pinterest world.
Pinterest Website Analytics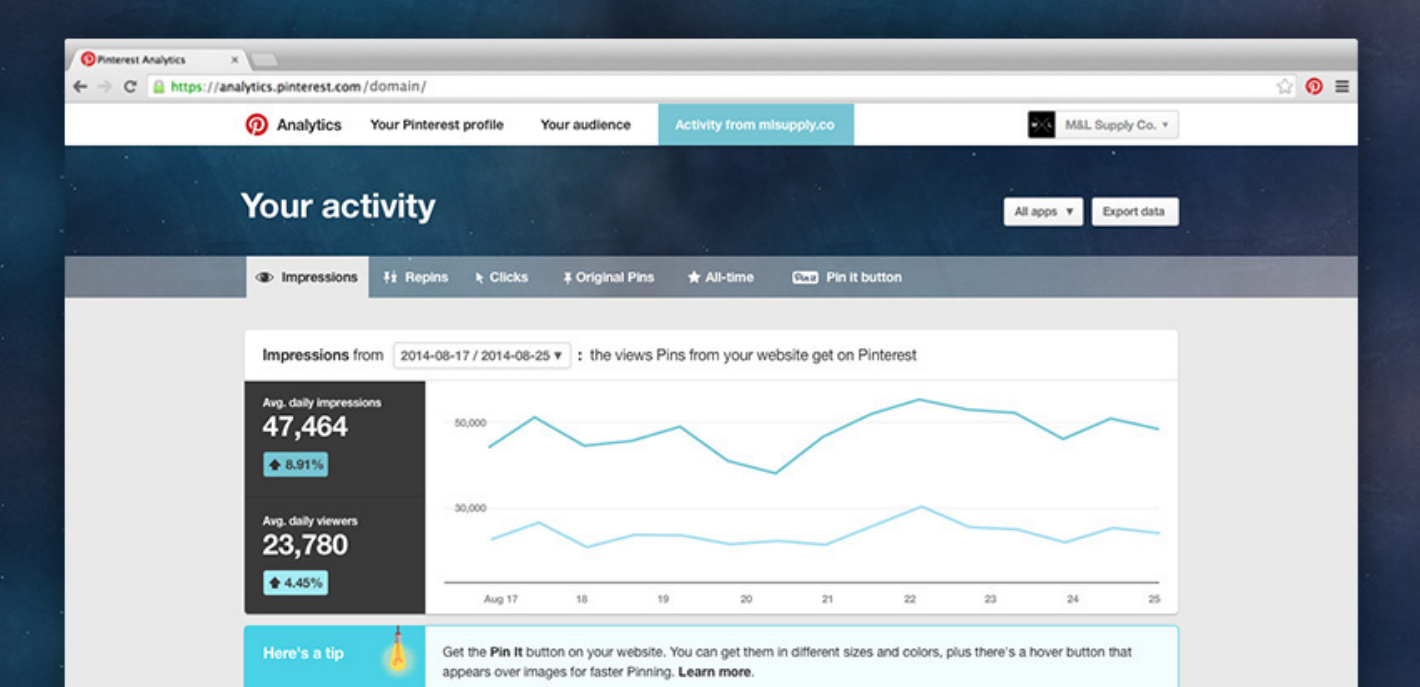 Source: Pinterest for Business – A Guide to Pinterest Analytics
Verify Your Website
Just like the analytics section, you need to do a few things before gathering your website metrics. The first thing is to verify your website with Pinterest. For steps on how to get that accomplished, visit this article to see the process step-by-step. If you are a SnapRetail member, we have a section on your Website profile where you can easily copy and paste in the code required to verify your site.
Quick Overview
Your website section looks a lot like the Profile section in terms of data; however, the main difference is the source. While your Profile will show you Impressions of your Pins, the Website section gives you more information on Pins from your Website and what traffic those generate in the mix.
Final Takeaway
Well, that was a lot! It's a vast amount of information to digest at once, true, but Pinterest makes it easy to understand and grasp even for those who hate numbers. The best takeaway point: focus on each section to tell a story and move from there. Each area that was covered cannot function alone.
First, see how your profile is doing overall. Are you making impressions and having people interact with your profile? After you establish that baseline, look into the Audience section for more information on what to Pin and how that can help grow your business.  Remember that your followers want to engage with you and others who share their likes. The more you Pin what people want the more people will engage. Finally, get your website involved with growing your Pinterest following.
Now, get out there and start learning more about you Pinterest profile and start Pinning like you've never Pinned before!