A guest post from our friends at Fit Small Business
Pop-up stores are temporary retail establishments that are designed to reach and engage customers through a creative experience. The cost of opening a pop-up shop is much less than that of a brick-and-mortar store, and it can be used to test a product idea, create buzz during a holiday, or simply generate more awareness of your brand.
According to PopUp Republic, pop-up shops are now a $10 billion industry and growing. However, customers expect more than the average service or shopping experience from pop-up stores. If you want to participate in this trend and draw in a crowd for your pop-up, you'll need a solid strategy.
Here are 8 strategies to attract the largest possible crowd to your pop-up shop:
1. Choose the Right Time & Location For Your Pop-Up
The primary way to get a crowd for your pop-up shop is to choose the perfect location. Pick a location and time that gets a lot of pedestrian traffic from your target market. Even with the right advertising, it's hard to expect people to find your shop if it's too out of the way or ill-timed.
Think of your target market and look for a space that will bring you near the area where your audience is. Time your opening to coincide with their schedule. For instance, if your target market is Millennials, try setting up your shop near the local college campus during lunch hour. If your target is busy professionals, set up your pop-up store near downtown.
2. Use Social Media Before, During, & After Your Pop-Up Event
Use your brand's social media accounts to spread the word about your event. Start the buzz about your pop-up store one month before it opens and keep the activity going during and even after it ends. This will help build anticipation and ensure that your followers won't miss your announcement about your new shop.
Then, closer to opening day, here's what to focus on:
One week before opening day:
Create a special catchy hashtag for your pop-up and add it to all of your posts. The hashtag will also help you measure how wide your reach is on social media.

Give your followers a sneak peak by sharing behind-the-scenes photos of your pop-up shop prep.

Come up with unique "save the date" messages to post on social networks.

Launch contests on social media that encourage followers to share your event with friends and family. For example, a clothing pop-up shop can start an "outfit-of-the-day" contest where followers can win discounts by posting outfits with a caption inviting their friends and family to your event. The daily winner can be the post with the largest number of likes from followers at the end of the day.

Use your Facebook account to create an event page where you can announce pre-launch and day-of promotions, such as a "bring-a-friend" promotion.

Invite local bloggers or influencers to your opening day and announce their attendance on your event page.
During opening day:
Try to do a flash sale, and advertise it on your event page. During a flash sale, items are heavily discounted, but only for an hour or two. This activity is usually for ecommerce sites, but it can be adapted to pop-up stores.

Post photos or hold Facebook live broadcasts for your followers to showcase what merchandise you are selling and fun opening day events.

Ask your local blogger or influencer to "take over" your social media account to share updates on your event.
After opening day / after your pop-up store event ends:
Encourage your followers to share their photos, experience, or feedback on your social media account, and acknowledge them with a like or a friendly comment.

Create an online photo album, or a short video with your followers in them and post it on your company's website.

Create anticipation by announcing your next pop-up event date and location (if known).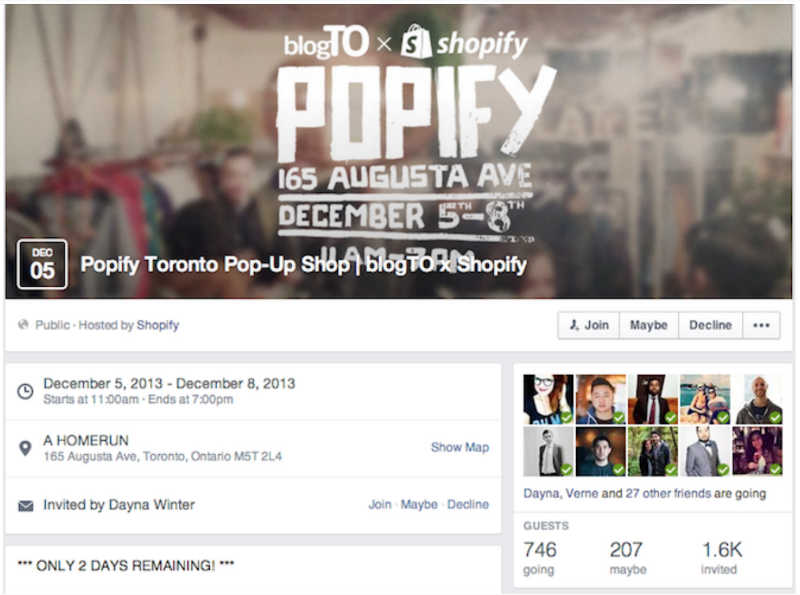 3. Hold Special Events
Customers are attracted to exclusivity and special events held during your pop-up create a sense of exclusivity that will encourage customers to come out on opening day. Focusing on your pop-up store's purpose can give you ideas for the right special event.
Are you launching or testing out a new product? Arrange for a special demo and sample giveaway. Do you want to create brand awareness? Invite a local celebrity to come to your pop-up and chat with customers. Events don't have to be too fancy as long as they create excitement that will make your followers want to come out and visit your shop.
Here are some pop-up event ideas:
Take advantage of any special holidays that coincide with your event. Don't forget quirky,

lesser known holidays

like "national spaghetti day" or "bittersweet chocolate day" that may associate well with your brand.

Based on your product or service, include a special guest or a hands-on event that your followers would like to participate in. For example, you can invite a local author to your book pop-up, or in exchange for a minimum purchase, teach customers how to add decorative icing on the cupcakes they purchase at your pop-up.

Partner up with local brands that compliment your product or service to participate in your launch. Invite them to give demos or distribute discount tokens for customers who make purchases at your pop-up.

Send VIP invitations (including a special gift) to your biggest followers, local press, bloggers, and influencers to spread the word about your shop.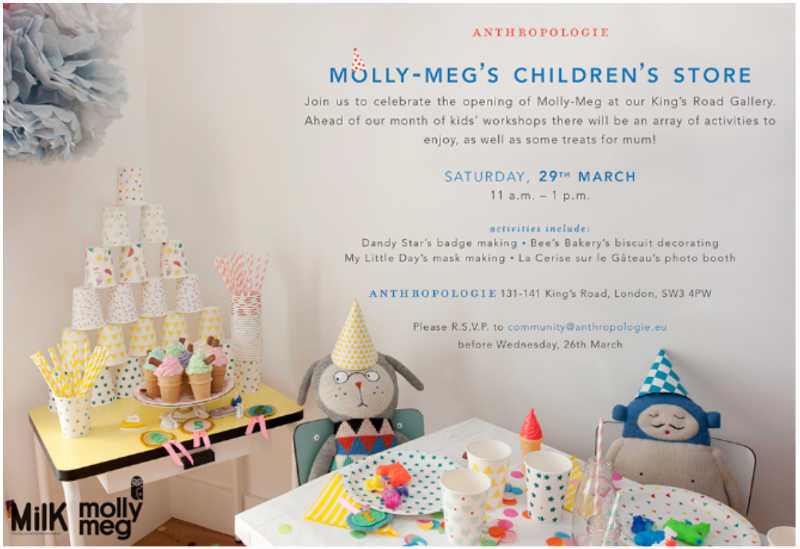 4. Use Creative Online Marketing Techniques
Aside from your social media accounts, you should also utilize other online marketing channels available to you. This should help make sure that the widest audience possible knows about your pop-up shop.
Go through your contact list, and announce your pop-up shop via email. Include special discount coupons that customers can present using their mobile devices to entice them to visit your pop-up store.

Create a special design for your website to build excitement for your event. You can try your hand at adding a countdown app or calendar on your landing page. You can also install a pop-up banner with catchy tag lines that will stay on your readers' minds.

Write an informative article on your blog that will end with an invitation to your pop-up store. Choose topics that will pique their interest, and add a clear call to action at the end. For example, if you're in the business of selling footwear, try writing interesting articles that talk about what one's choice of shoes say about their personality, or perhaps share a video of how certain types of shoes are made.

Contact a developer (perhaps on a freelancer site like

Upwork

or

Freelancer.com

if you don't have one on staff) to help you set up an interactive activity that customers can access on their mobile phones. For example, you can design a digital interactive scavenger hunt that customers can play at your pop-up shop to hunt for discounts.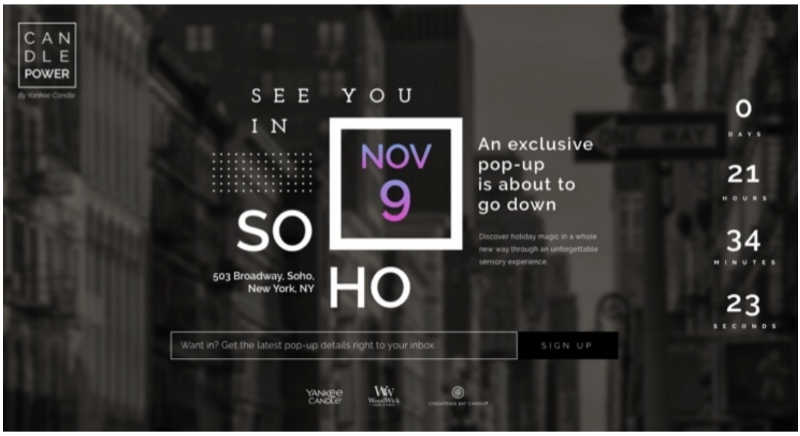 5. Don't Forget About Traditional Offline Marketing
The old-fashioned way still works, so don't hesitate to send out printed materials to get people talking about your pop-up store:
Post sidewalk signs (pictured below) around the neighborhood leading up to your pop-up shop.

Ask employees or hire someone on a contract basis to hand out discount vouchers around the vicinity where your pop-up store is located.
Put up bike billboards to help spread awareness about your pop-up store in locations where your target customers frequently go.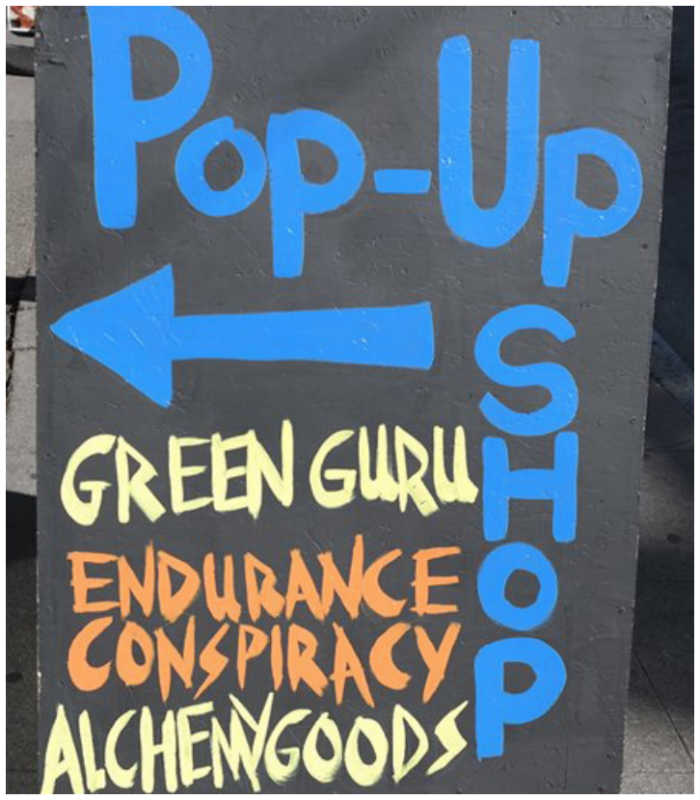 6. Partner With Major Retailers or Department Stores
Major retailers and department stores have a large customer base that allows them to dominate the market within an area, and your pop-up store will benefit from establishing a partnership with them. Reaching out to major market players will allow you to tap into their marketing and press power, making their customers your potential customers as well. For example, a pop-up clothing shop can partner with a large clothing retailer, or a pop-up donut shop can set their stall in a popular cafe to gain the attention of their customers. Nordstrom often works with smaller brands to set up pop-up shops within its department stores. They carefully curate the merchandise that will appeal to their customer base.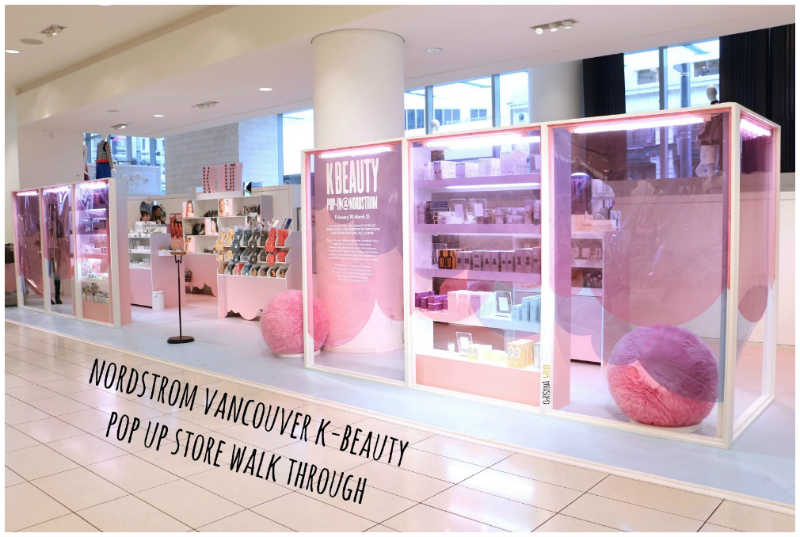 7. Work With the Press & Influencers
You're missing out on a great opportunity if you don't try and connect with local press or influencers before your pop-up shop opens. Inviting the press and social media influencers to your shop is, by extension, inviting their followers as well. This strategy is especially effective for when you're trying to expand your customer base.
Research your target market, and identify the local publications and blogs that they would normally read and send reporters at those publications a press release announcing the event.

Invite them to your store opening as a VIP guest (with a special gift) or even as your host.

If you're testing out a new product, give them a sample in advance and request them to leave a testimonial on your event website or social media.
8. Offer Easy Payment Options to Encourage Buying
Mobility and convenience are key characteristics of a pop-up store. Customers expect a fast, convenient shopping experience down to their payment. As a business owner, you should be able to accept a range of payment methods, including cash, card, and contactless payment systems (e.g. Apple Pay). The right mobile credit card processor can help you accept a range of payments with ease.
Conclusion
The popularity of temporary pop-up shops is changing the landscape of the retail industry. Brands have found a way to give customers their demand for a unique shopping experience while establishing brand presence where they want, when they want, and however they want. So the next time you need to increase brand awareness, test out a product, or acquire new customers, try setting up a pop-up store, and follow the ideas above to bring in the crowd.