Your business is being Googled
Google is the number one search engine used world wide. Prospective customers and existing customers alike google your businesses or services to get answers to common inquiries. These business questions could be "What are today's store hours?" or "What is the store phone number?," "How far away is this store and how do I get there?" or even "What is new in store?" These searches occur on desktop computers and mobile phones or tablets on the go. Your business could potentially be losing customers the moment these questions are not easily answered through a quick Google search.  

Whether your business has an existing online presence or not, you need to get on Google My Business!
The benefits
Now that your business is set up on Google, you get to reap the benefits. Google My Business is an excellent complement to your existing website. For those businesses without a website, it validates your business' online identity on Google. The basic store information needed to set up your Google Business account will appear in Google Searches, Google Maps and Google+ accounts. This information is also responsive to the device used during the search. Mobile searches for your business will allow you to click and instantly call the store. Convenience and ease is key. Store hours are blatantly visible and not hidden in the website. Even better you are one click away from instant driving directions so anyone can stop into your brick and mortar location!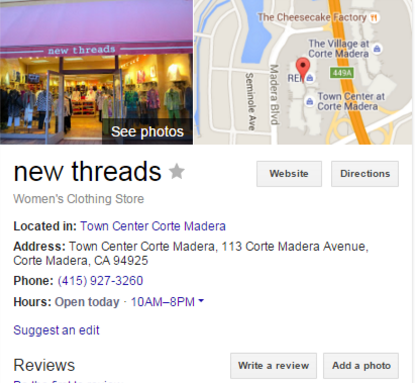 Better yet, this information gives you, the business owner, important data to work with! Through your Google my Business account you can get easy to understand analytics that show when customers are finding your business on Google. You will also see how many clicks you get on the many call to actions: Clicks to your website, the Contact info (Call button), or driving instructions. Dive even deeper and you can see where your customers are coming from when they are requesting driving directions! Talk about understanding your customer demographics and potential target audience for future marketing endeavors!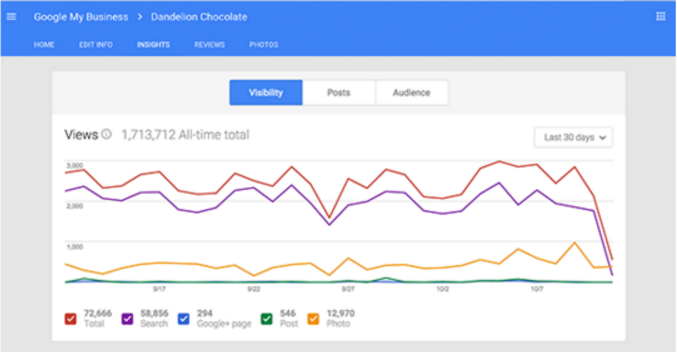 Having your business on Google Maps will also help you become more competitive with the local market. If a potential customer searches "Fabric store near me," your Google My Business account will add a pin to the map so your business is listed as an option! This is a great way to grab new, unique customers and people who are visiting or are new to the area.
Update your Info
It is simple to setup and simple to maintain. Log into your Google My Business account any time  important business information is changed – think holiday hours, changed phone numbers, etc. There is even a Google My Business app to update your info on the go.

It is also a good idea to update any old store photos. These images display as a cover photo so keep it relevant to the time of year or major holidays that correspond to sales or store events!
Long story short- get on Google!
Never again will you lose a customer because they did not know your hours or how to find your store! Visibility on Google will help you reach your customers and help your customers reach you!