Coupons, discounts, and deals, oh my! While providing coupons during the holiday season might seem cliché, there comes a time when coupons are expected by your customers. According to The Social Habit, 70% of email readers open emails from a brand or company in search of a deal, discount, or coupon.
That expectation also brings customers happiness. According to Dr. Paul J. Zak, Professor of Neuroeconomics at Claremont Graduate University, "Receiving coupons decreased stress and increased happiness." While you probably can't make a customer's horrible day magical with just a single coupon, you can help increase their satisfaction with your brand.
Coupons are expected and a happiness booster, so what are some things to keep in mind before throwing one on your emails or into a customer's shopping bag?
Step 1: Make your coupon have a goal
Every coupon should have at least one main goal: drive customers to take a specific action. If the goal is to increase sales during low traffic times, consider using a bounce-back coupon. Maybe the goal is to sell complementary products to increase the overall purchase amount. Regardless of the goal, each coupon should have one.
Step 2: Decide on a percentage or dollar amount discount
When offering a discount, maximizing the perceived value will help give people the notion that they have received the best deal possible. Think of a shirt that is listed at $50. Does a discount of 20% or $10 off sound better? The math is the same, but the perceived value is not. In his book, Contagious: Why Things Catch On, Jonah Berger focuses on the "Rule of 100."
When the price is under $100, use a percentage discount. If the price is over $100, use an absolute value. In both cases the goal is to choose the discount with the greater number value.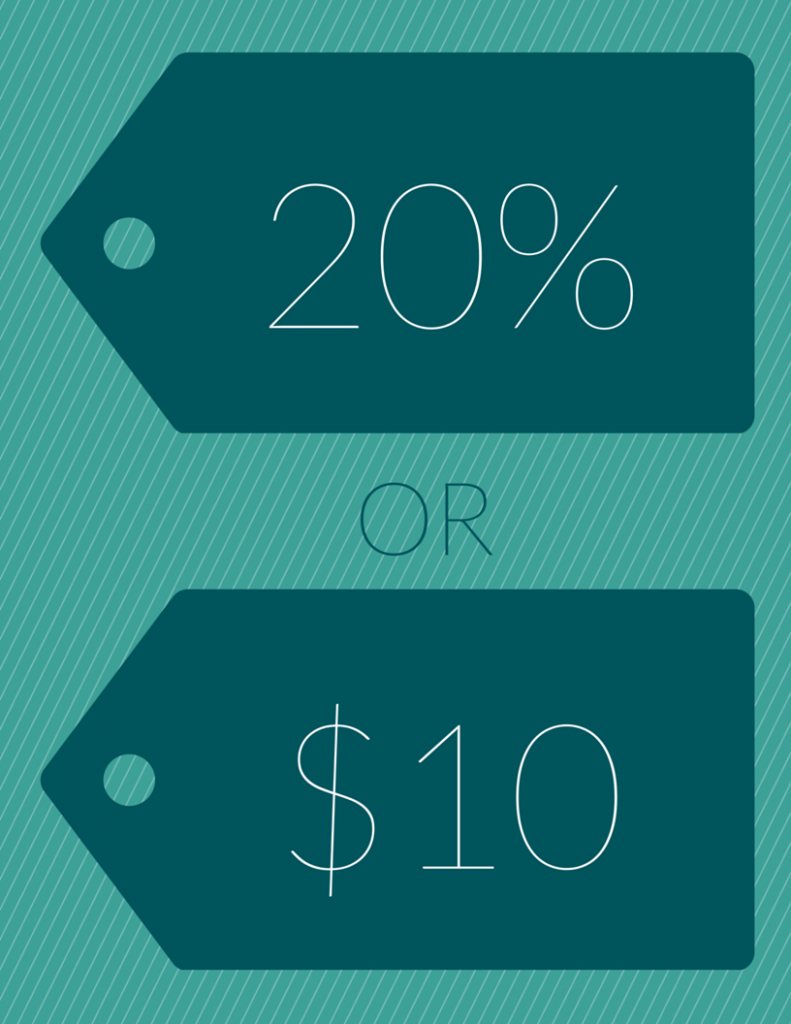 Step 3: Choose the coupon type
Refer-a-Friend
According to The New York Times, 65% of new business comes from referrals. But the numbers don't just stop there. Nielsen follows this statistic by pointing out that people are four times more likely to buy when referred by a friend. Using your existing customer base can help your business grow. You can choose to give a discount to the person referring, the person being referred, or both.
Bounce-Back
Bounce-back coupons take the traditional coupon to the next level by requiring a customer to use them on a return visit. The goal with a bound-back coupon is simple: give your customer a coupon to return back at a later date. Because of this limitation, bounce-back coupons are great for the holidays and other periods of high volume. Want an exciting twist? Place the discount in a sealed envelope and only let the customer use it once they come back! Open the discount together when they return to the store. The element of surprise cannot be underestimated.
Welcome New Customers
Since 70% of email readers open emails in search of a discount or deal, it only makes sense to give a coupon in the first email they receive. Welcome your customers to your store with a small discount, and give them a reason to come back.
Exclusive Offers (VIP)
Rewarding loyal customers helps build brand loyalty. A simple email (with a coupon) once a month to those VIP customers will show they are valued.
Volume and Purchase Amount
To help increase sales, offer customers a discount based on the total purchase amount. Before the discount and amount can be determined, calculate your average dollar sale (ADS) to get a baseline for the typical purchase amount. After, increase the minimum purchase amount for the coupon by 20-30% and offer a small discount. It's an easy way to reward people for spending more in your store.