Promoting your online store will be an ongoing process, but don't miss out on the opportunity and excitement of a brand new store. You only launch your store once, so make sure you're maximizing this freshness and newness!
You have a plan. You have the inventory. You have e-commerce! Now, you need the customers. Get the word out through various channels to successfully launch your e-commerce initiatives. Coordinate your efforts across social, email, blogs and in-store signage.
Social Media
First, start teasing the launch of your online store. Try posting "teaser posts" on social media sites about a month before. Change your cover photo on Facebook. Tweet daily updates and preview products on Instagram. Create a Pinterest board specific to your e-commerce store opening. 
Then host a grand opening celebration online. Instead of giving out punch and cookies at the door, consider offering a small, free gift with a certain amount purchased. Create a coupon code specific for the opening event and share it on social!
If you haven't already, consider doing social media ads as well. You can target existing customers or grow your audience to reach new potential shoppers too! Learn more about running effective ads here.

Blogs
Have you teamed up with a blogger? Although their audience size may vary, it's more important to look for a blogger who coordinates with your brand personality. Once you find the right blogger (consider searching on YouTube or Google using key search terms "Fashion Blogger Pittsburgh") reach out to him or her and offer a free product if they mention you on their blog and promote your online store opening!
Email
Send an email to your customer list letting them know you're selling online! Feature products as well as well as mention e-commerce specific promotions and benefits. Offering free shipping? Make sure your customers know that! Can they order online and pick up the next day in-store? Brag about those multi-channel options!
With SnapRetail, you can also download your email campaigns and use them as posters and handouts to share in person. We're saving you even more time.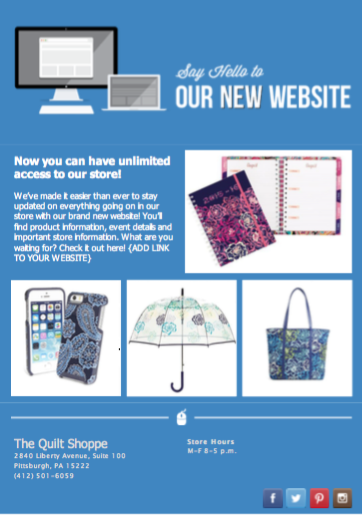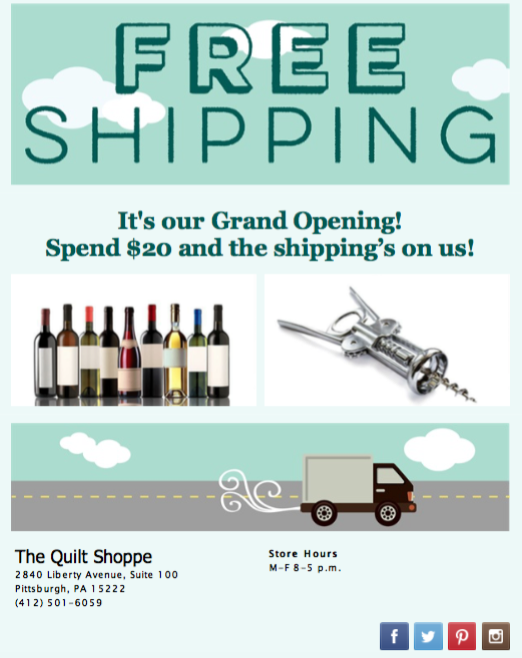 Signage
Speaking of handouts, are you a brick and mortar location expanding to sell online? Don't forget to tell your customers while they're in store. Let them know their favorites are now available online either through a simple conversation at checkout or with some friendly in store signage. Consider adding a note about your new e-commerce website to the bottom of your receipts!

Congratulations on launching your new online storefront! Open your doors and drive more sales!