A recent study by Visual Objects found that most consumers use shopping apps a few times per week and are most likely to access:
Mass merchant retailer apps such as Target, Walmart, or Costco
Pure online retailer apps such as Amazon or Overstock
Food and beverage apps
Another survey by Clutch also discovered that people most commonly use shopping apps to:
Check prices
Make purchases
Navigate through brick-and-mortar stores
Understanding how and why people use retail apps can help businesses develop more efficient, successful apps for their target audience.
In this article, we explore the findings from these two reports, what incentivizes people to use retail apps, and explain how you can use that information to develop apps that are successful with your target audience.
What Incentivizes People To Use Retail Apps?
Over 60% of consumers use apps to get exclusive deals and promotions, although businesses should keep in mind that behavior varies by industry. For example:
Restaurant apps are most often used to make purchases and view menus.
Convenience store apps are typically used to help find locations, check prices, and redeem coupons.
Retail apparel apps are most frequently used to inform and validate purchases.
Understanding how people in your industry use apps can help your business work with mobile app development companies to create an app that's widely-used by your customer base.
6 Steps to Set Your Retail App Up for Success
When developing an app for your business, consider the following tips:
Make Navigation a Top Priority
Creating a user experience that allows shoppers to easily explore new products streamlines their purchasing process.
Help Users Save Time
Well-designed, user-friendly apps allow users to browse and shop quickly and efficiently. You should QA your app to ensure there's no bugs and everything loads quickly.
Consider Why Customers Use Your App
Develop your app based on the features your customers will most appreciate and help them complete their desired actions.
For example, most people use restaurant apps to make purchases and view menus. So, restaurant apps should emphasize quick-loading menus that are easy to navigate along with a clear and seamless way to order meals.
Starbucks is a great example of a restaurant app that caters to its customers' needs by providing menus and order-ahead features in its app.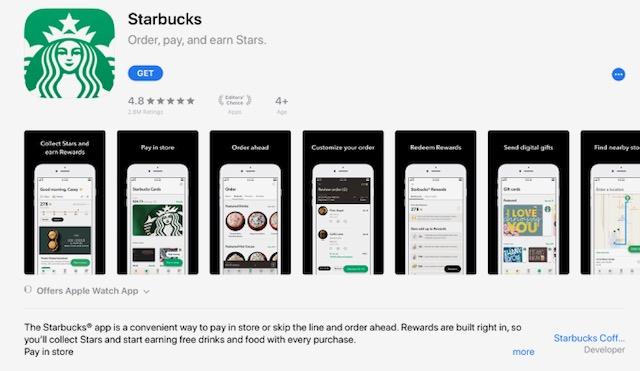 Source: App Store
Reference Large Market Players For Ideas, But Make Your App Unique to You Company
Focus on the needs of your target audience rather than imitating big players. Consider how you might incorporate some of the features that mega-retailers use to build trust with customers, but make sure that your own unique brand voice and value proposition shines through.
For example, features such as price-match guarantees, free returns, and credit card data protection can help you build trust with shoppers, so they're more likely to use your app.
Macy's is an excellent example of a company that caters to its customers with an app that provides an in-store mode, rewards program, fashion tips, and exclusive offers.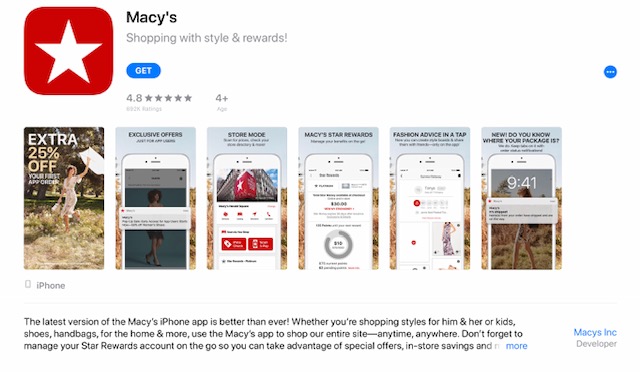 Source: App Store
At the same time, if you are a small retailer, make sure you communicate advantages you hold over large retailers – for example, customer service.
Avoid Depending Solely on Discounts
Discounts are a top reason people download and use shopping apps. Businesses should focus on serving their target audience, though, instead of relying solely on discounts to drive user engagement.
For example, providing app users with perks such as product recommendations, delivery options, and loyalty programs can create experiences that are more personal and engaging than merely offering discounts.
The 7-Eleven store app is a good example of how companies can provide a personalized and convenient in-store experience. Its app provides perks such as customer reward points, an in-store scan and pay function, and store location maps.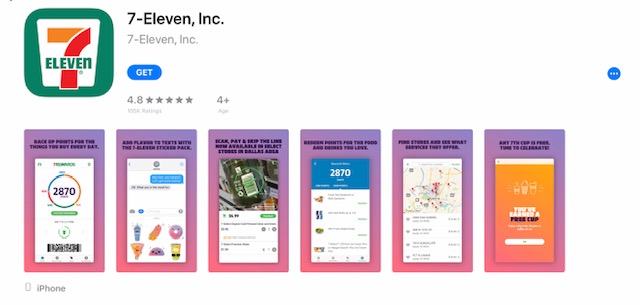 Source: Apple IOS App Store
These apps ensure that users stay around by creating an engaging and seamless mobile experience.
Create an Multi-Platform Customer Experience
Creating consistent brand messaging and experiences across all of your digital channels helps build trust with your users and encourage more people to use your app.
The majority of people prefer to use shopping apps when they're at home, according to the Visual Objects survey, but will browse products on their smartphones or a desktop computer to complete their purchases.
With consumers commonly using multiple devices and computers, creating a seamless experience across multiple devices is essential to capturing sales.
For example, if you add an item to your Amazon shopping cart while using the app, the same item shows up when you switch to the desktop view on your computer.
Tailor Retail Apps to Your Customers
Consumers use retail apps differently, depending on what type of business the app represents. Work with e-commerce development companies to create a good user experience, customer-oriented features, and a trustworthy presentation can help to make your app successful.
Riley Panko is a Senior Content Developer for Clutch, a platform for business services in Washington, D.C. Her research focuses on app developers and business services trends.