If you ask any of our small businesses about their most loved SnapRetail feature, the survey is always pretty clean: the planning calendar. Why? You can easily get a comprehensive view of your marketing plan: emails, social posts, website updates, and events. But, even the best features need to be improved. That's why we are excited to announce our Smart Calendar!
Marketing That's
Done for You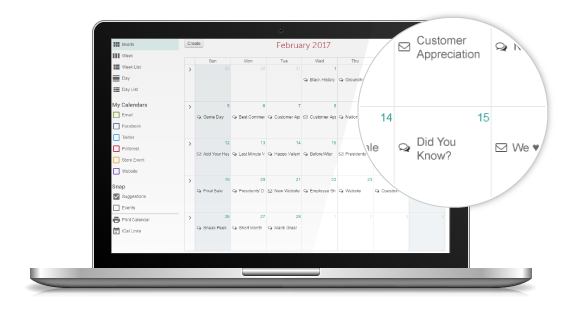 Businesses love our social and email marketing ideas. It saves hours of time and answers the question, "what should I say to my customers?" While our idea bar was amazing, we took it one step further. Our social and email ideas are now directly on the calendar! Now, businesses can navigate to a month and see a marketing calendar full of social and email ideas waiting to be scheduled. Just click, personalize, and post. How easy is that? That's why we called it Smart. It's like you are friends with the smartest kid in your marketing class.
New Marketing
Calendar Views
We always love to see our businesses schedule an entire month worth of marketing in just a few minutes, but what if you are a week kind of person? How about a day? We all process and organize our lives, marketing included, differently. Our calendar now allows you to see your entire marketing plan by month, week, day, or list views. You can even print each view to hang in your store or office, making sure you and your staff know what is happening.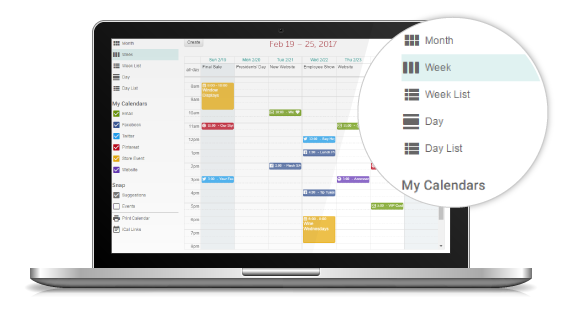 Keep Your Marketing Clean and Organized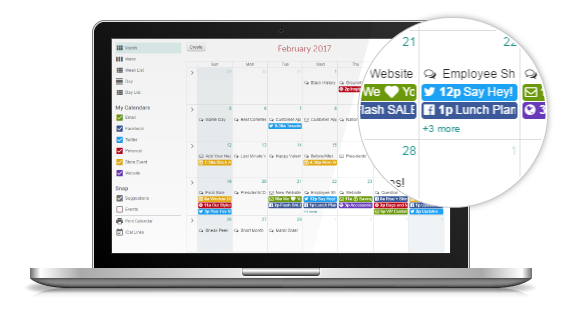 Even if you are not OCD like me, seeing an unorganized calendar makes it difficult to plan for what's coming up next. In the old days, events would pile up each day, and our star marketers would have 7 or 10 posts a day; that's a lot to look at! Now, a "+ more" feature keeps your monthly marketing plan clean and organized.
Click and Drag Your Marketing, Always
This may not be a new feature, but it's always amazing. Ideas and scheduled updates are all draggable. Do you want that customer appreciation post scheduled for Wednesday and not Tuesday? Simple. Just click and drag it to Wednesday. Should that email send on Thursday to get people excited for the weekend? Click and drag it to Thursday. We make it easy to not only plan your marketing, but also update and organize it, too.
Excited to try it out? Click below to create a free account and get started now. Trust me, you'll love it when an entire month (or weeks) worth of marketing is done and ready to go!