In the wake of Amazon's commitment to one and two-day shipping, fast delivery is becoming the new normal in e-commerce.
According to CNN, 85% of online shoppers have made a purchase from Amazon in the last six months. As more customers purchase from the e-commerce giant, Amazon can set the standard for shipping timelines.
Though most smaller retailers can't match the speed of Amazon they must still meet the shifting expectations of customers.
People enjoy fast shipping but may not realize the difficulty that small businesses face when trying to fulfill orders rapidly without the same resources and scale as Amazon.
To alleviate concerns about delivery times, small businesses must communicate with customers. In the age of quick shipping, managing expectations is key to mitigating backlash and sustaining customer relations.
This article explores why and how small retailers must communicate with consumers about delivery times.
Communication Can Alleviate Concerns About Longer Delivery Timelines
People expect their packages to be delivered quickly and on time.
According to a recent survey, the largest percentage of consumers (48%) say they typically receive a package within 2 to 3 days.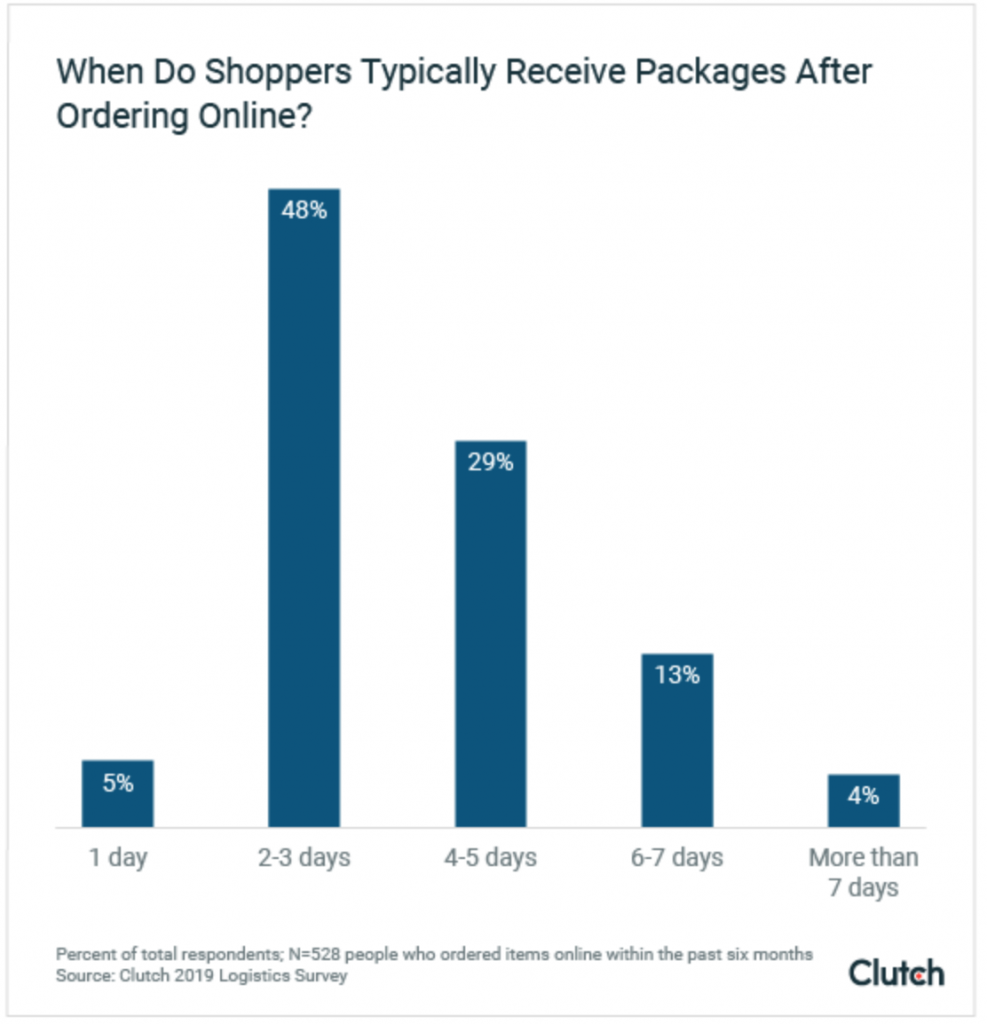 Businesses must communicate the delivery timeline to customers. If a package doesn't arrive in 2-3 days, as it does with Amazon, customers may begin to wonder where it is.
People are generally willing to wait longer for delivery if they've been provided a satisfactory reason, especially from a favorite small business.
Communication about shipping helps customers understand the difficulty of fulfilling orders quickly and thus ameliorates the risk of backlash.
Use your website and onboarding process to explain what goes into creating and delivering customers' orders.
Ross Palmer, the marketing manager of Lab Society, a laboratory supply company, says that upfront communication is critical to happy customers.
"Our customers appreciate the clarity and insight before their purchase, rather than dealing with unexpected problems after," Palmer said.
Palmer recently added automatic shipment separation as a shipping option. This lets him ship items as they become available instead of waiting for the manufacturer to complete the entire order.
A company representative updates customers about the delivery timeline and costs to mitigate the risk of any frustrations.
As increasingly more people order online, smaller retailers must find ways to satisfy consumers' enthusiasm for rapid shipping. Communicating clearly when you can't deliver quickly can ensure customers still appreciate your business.
Communication Can Deter Businesses From Overpromising
Some companies may try to offer fast shipping to attract new customers, even if they can't always fulfill the order on time. This is a risky strategy, though. If you overpromise and under-deliver on shipping, people will get frustrated and go elsewhere.
It's best to preserve the goodwill of your customers and set honest delivery expectations from the beginning.
Instead of promising fast delivery on all items,  some retailers modify their product offerings to only focus on items they can ship quickly, thus better meeting the expectations of their customers.
For example, Joel Poznansk, the owner of Wicked Uncle, an online specialty children's gift retailer in the U.K., said he had to remove an option for overnight shipping within his business.
"With gifts, including birthday gifts, offering an overnight option was too painful," Poznansky said. "Although it costs us some lost sales, we have to live with it to ensure goodwill continues."
Poznansky chose to be honest with customers, despite the average slower shipping speed.
Streamlining your delivery options helps to avoid frustrating customers. You can also consider removing items from your web store that are impossible to ship quickly.
Outside Resources Can Help Businesses Ship Quickly
Third-party logistics providers (3PLs) can help small businesses deliver packages more quickly and provide a more rewarding customer service experience.
Using the same technology and infrastructure available to e-commerce giants, 3PLs help you offer same-day shipping and real-time order updates to customers.
3PLs fulfill orders for many businesses. Since its their focus and they can leverage economies of scale, they can improve delivery timelines and capabilities for all their clients.
Customers appreciate the clarity, swiftness, and package protections that 3PLs introduce to the shipping process.
Outside logistics experts can also provide advice and consultation if you don't want to outsource your shipping, but are seeking ways to improve it.
Small Businesses Must Communicate About Shipping
Shipping times are accelerating and small businesses must act to meet customers' demands.
Ask your customers what they want. Then use this information to be upfront and consistent in your communications about shipping. Aim to set and satisfy the expectations of customers.
Be sure to promise delivery times that you can fulfill consistently or risk alienating customers.