Online e-commerce businesses face significant hurdles when it comes to the high cost and logistical challenges involved in customer returns and exchanges. Understanding why a return policy is important, and knowing how to craft one that attracts and retains customers, is essential for the success of any online business.
In this article, we show you why it's critical that your e-commerce business publishes a clear, detailed return and exchange policy for its customers.
You can use the information to understand customers' challenges with returns and learn how to write a return policy that builds trust and fosters long-term relationships with your customers.
The State of Returns and Exchanges in 2020
Returns pose a challenge to all businesses, especially e-commerce companies. Online stores face an average 20% – 30% return rate compared to the 8-10% return rate average for brick-and-mortar stores.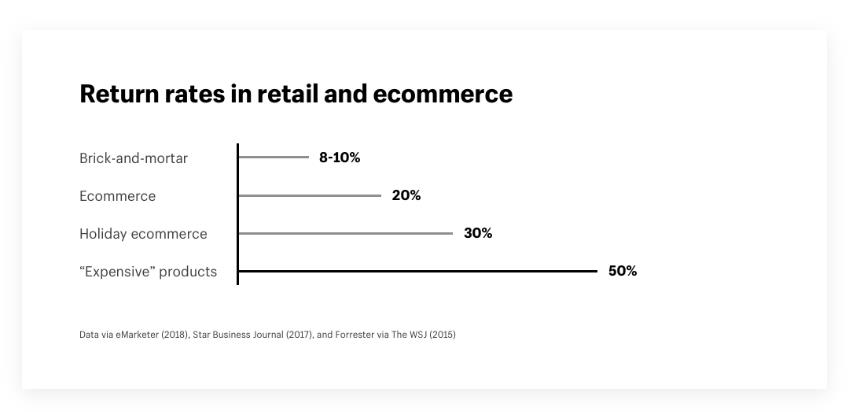 Source: Shopify
Additionally, nearly half (49%) of online retailers offer free shipping on returns, raising the expectations of customers who shop online.
People return products for several reasons:
20% due to damaged products
22% due to a difference in appearance
23% received the wrong item
35% other reasons
Returns cost businesses money and eat away at their profits. Statista predicts that the cost of returns in the U.S. this year will total 550 billion dollars.
The high cost of returns has led several digitally-native brands to open brick-and-mortar stores.
Despite the significant pressure that return and exchange policies place on e-commerce businesses, brands wanting to sell online must write return policies because:
Customers don't trust, and won't purchase from, stores without return policies
Many states require businesses to accept returns.
Online stores without a return policy risk losing sales or never getting off the ground at all since customers expect that their satisfaction is your business's priority.
How to Write an E-Commerce Return and Exchange Policy
Businesses should follow several best practices to write an effective return and exchange policy for their customers.
1.   Keep Language Simple
Shady businesses often write confusing and lengthy return policies to discourage customers from returning items.
Customers often avoid businesses with overly-complicated return policies because it can give the impression that the company is scamming them or operating in a dishonest way.
According to an infographic by ShipBob:
49% of customers check the return policy before making a purchase.
18% of customers abandon their carts because they're unhappy with the return policies.
Nearly all customers (95%) who are happy with the exchange process will purchase from the same business again.
To attract and retain customers, build trust by publishing clear and transparent return policies that are posted where viewers can easily find them.
2.   Ensure You Have All the Details
Using clear and simple language in your return policies is essential to crafting a good return policy; however, it doesn't mean you should skip over crucial details.
If people make wrong assumptions about your return policy, it can cause friction and risk the loss of valuable customers.
Instead, ensure that the policy covers all aspects of returns and exchanges for your online store, including:
Timeframe: How long do customers have to return the item?
Shipping costs: Will you cover the shipping costs of returns, or are customers expected to pay for it?
Payment method: Will refunds be monetary and credited back to the original payment source? Or, will you provide a store credit for future purchases? How long will it take for the customer to receive their refund?
Condition of the product: What condition do you expect the item to arrive in to be considered an "acceptable" return?
Covering all the details of returns and exchanges in your policy, while keeping the document clear and easy-to-read, will help reduce your chances of unhappy customers in the future.
3.   Stand by Your Policies
Once you've written your return policies, review them carefully before publishing.
Your return and exchange policies are promises that you make to customers, and you'll be expected to keep those promises or risk unhappy customers, a bad reputation, or even lawsuits.
If you struggle to keep up with the logistical side of customer returns, and need help fulfilling them, consider seeking advice from outside supply chain consultants.
Businesses Should Publish Clear, Detailed Return Policies
Understanding why return policies are critical to businesses will help your team craft clear, detailed return policies while building a strong and loyal customer base.
If your business struggles to effectively manage its returns, consider hiring one of the top logistics companies to assist and provide expertise.
Riley Panko is a Marketing Communications Manager for Clutch, a ratings and reviews site for B2B services and solutions. She leads the company's supply chain research.