It's no secret that Pinterest has become a part of many of our daily routines. It has also become a huge part of small businesses and their marketing strategies. There are some strategic ways of using Pinterest successfully for your business that goes beyond pinning your favorite recipe or outfit. Keep reading to learn how to take your Pins, boards and indie retail store to the next level.
Market your products with the customer in mind
As always, your customers should be your first priority when your business takes to Pinterest. Customers tend to get frustrated with retailers who push their products too often, but Pinterest is the perfect place to do this since products are a top category!
With that said, just because Pinterest makes it easy to promote your products, you should follow a similar posting or, in this case, pinning pattern to the 60/30/10 rule. There is more room for flexibility for promoting your products on Pinterest, but keeping the "golden rule" in mind here is important! You wouldn't want your home page filled with only products, so mix it up for your customers. There are plenty of ways to do this and we're giving you some ideas below!
Create a lifestyle
Creating a lifestyle on Pinterest is just like real life. Your Pins represent your favorite products, which quotes inspire you, which types of food you like, what your goals are and what you like to do for fun. People (customers) can tell a lot about you (or your business) by your Pins and boards.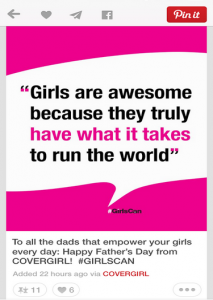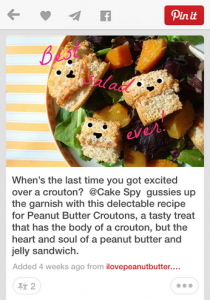 Your business presence on Pinterest should reflect your store and your customers. Pinterest is an opportunity to be a resource to your customers.
Use it as a focus group
Create boards with products that compliment your store and interest your customers.  For example, if your customers are mothers with young children, you could have boards with craft ideas, healthy and fun recipes, parenting tips, fun for the holidays and more! Here's a little secret, you can place your products in these boards, too. This method of pinning shows how their best interests are on the top of your priority list.
Pinterest has an endless amount of products and information all in one place. Your store is not the only one pinning and creating a lifestyle. There are 70 million users on Pinterest making it the perfect place to learn and expose yourself and your business to new ideas and products. Don't limit your work on Pinterest to only your Pinterest followers! Share all of your amazing Pins with your Facebook and Twitter audiences, too. This is the perfect way to grow your Pinterest audience as well as interact with your customers.
Make a board for the community
As an independent retailer you love when your customers chime in and interact with you! There are great ways to engage with your customers on Pinterest, too.
Let's say you carry the Elf on the Shelf in your store. You can create a public board and invite people to Pin their Elf pictures to your board! You're not only getting people interacting with the board and your brand, but you're sharing with everyone who uses Elf on the Shelf or follows those users.
You can do the same with apparel or jewelry. Ask people to Pin pictures of them wearing or using your products. This is a fun way to interact with your customers, grow your following and maybe even gain some inspiration!
Try out promoted pins
Promoted Pins are a relatively new feature. They are similar to Google Adwords and are used as a cost per click function. Small businesses simply pick a Pin, determine the audience, set a budget and analyze the tracing. This is a way to see which Pins are popular and what is working for your business. Not only is this a way to broaden your overall reach, but it also helps you not to waste time and energy on failing Pins in the future.
Happy Pinning
Not only is Pinterest one of the fastest growing social media platforms, but it is also the perfect place for independent retailers. It's a place for retailers to be creative, integrate their products and interact with their customers while having the potential of reaching a huge audience. Remember to be a resource to your customers as well as promote your products. In no time you will become your customers' favorite pinners.
In the words of the Pinterest team, "Happy Pinning!"