How important are images? The short answer is very! But, what are the details that support that answer? First, articles with images get 94% more total views on average. That success continues to Facebook where engagement rates for photos are 37% higher over text only. Does that include email? Yes! 65% of people are visual learners, so adding images to your emails can help customers remember your business. Where should you look for photos to use in all of your marketing? Instagram. With an average of 52,000,000 photos shared each day, Instagram is the photo king in marketing.
Should You Use Instagram for Business?
Over 400 million people worldwide use Instagram each day. Of those users, 60% report that they learn about products and services while on Instagram. Those two facts alone make Instagram for business a sure success. Now your photos are worth more than a thousand words; they are worth real dollars.  What do you do now?  Let's take a look at some tips for Instagram success and how SnapRetail makes it easy to share all your images across all your online marketing!

Instagram for Business | Our Tips
Have a Complete Instagram Business Profile
Notice that we said business profile. These profiles get access to realtime metrics and insights into followers and how they interact with posts. Also, you can add company specific information like hours, location, and phone number. If you need to convert your account, we have this link with a video for you to watch.
Once you have a business account, make sure it is complete. That includes a brand logo, contact information, and a bio. To make your bio a success, include a fun eye-catching overview of your business and a link to your website to help increase traffic.
Be Consistent In Your Posting
Try to stick with a set schedule while posting to your Instagram account. Instead of posting six times one week and zero the next, spread it out to three times each week.
While we are on the topic of consistent posting, stick to a theme as well. It makes things a lot easier later. Many successful accounts hold onto a consistent theme regarding color and style, giving their profile a distinct look. It helps them stand out while customers are scrolling through their Instagram feeds.
Always Use Hashtags
It sounds obvious, but a lot of people and businesses leave hashtags off of their image captions. Or worse, they tag generic titles. Remember, hashtags help organize photos and are key phrases that others search. Lost on what to hashtag? Look at some of the popular photos taken around your area.  Then, look into what those people are hashtagging. You'll start to notice patterns that a lot of popular Instagrammers share.  Many cities, for example, have a particular Instagram hashtag. Take it one step further. Create your own to make it easier for your customers to find and share photos promoting your store.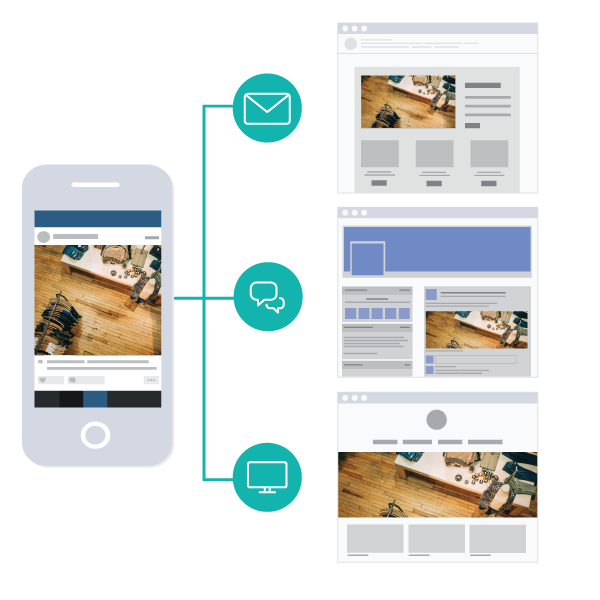 SnapRetail Makes Sharing Your Instagram Photos Easy!
Now that you have all the facts needed to make your Instagram a success, it's time to share it in all of your online marketing! Does that require a large amount of work? Not at all! SnapRetail makes it easy to share all of your Instagram photos within your emails, social networks, and website.
We give you access to all your Instagram images anywhere you can add a photo. Now you can easily create a new Pinterest board and schedule it to go live with your great product images. Or, create a Facebook photo album with your top photos. Your emails can even have Instagram images added to them, too.  Once your account is linked, we do the rest.  You just need to select the perfect photo and schedule it to go live anytime.
Besides ease of use, why is this feature beneficial to you? Brand recognition. Being consistent across all of your online marketing platforms makes it easier for your customers to recognize your brand. While it may sound simple, big companies spend millions to keep their brand consistent. Think of Pepsi. If each convenience store had a different color scheme, logo, and label for Pepsi, how easy would it be for you to notice it among all the other choices? Just because you are not global multi-million dollar brand (yet!), that does not mean that keeping your look uniform in marketing cannot help you grow.
Give it a try and increase engagement today!