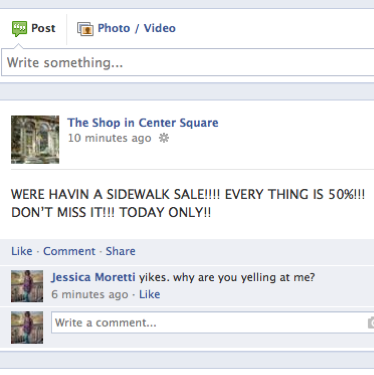 There's nothing more aggravating than losing something. Your keys. Your wallet. And certainly your mind. But when you start to lose Facebook fans, it's not only aggravating, it's detrimental to your business.
You worked hard to build your Facebook following, so don't let a few careless mistakes ruin your reputation. Here are 3 Facebook no-no's to avoid if you want to make sure your fans stick around and stay engaged with your business page.
Writing posts using incorrect grammar, ALL CAPITAL LETTERS and excessive punctuation
Every time a business sends out a post that looks like this – WERE HAVIN A SIDEWALK SALE!!!! EVERY THING IS 50%!!! DON'T MISS IT!!! TODAY ONLY!! – a little piece of my grammar-loving soul dies.
If businesses don't stop doing this, pretty soon there will be nothing left of me. What's worse than that? All of the other people out there who are just like me. They won't let their souls die. They'll just stop following you.
Take the time to craft a thoughtful Facebook post. Your audience will take notice and appreciate your efforts. Otherwise, your audience may wonder why you're always yelling at them. As a busy store owner, time isn't always on your side. So that's why we provide our subscribers with hundreds of pre-written social posts, all of which have appropriate grammar, capitalization and punctuation.
Posting content that isn't relevant to you, your brand or your audience
It may seem too simplistic, but chances are your fans initially liked your page because they like you and your brand. They want to stay in the know regarding new product arrivals, sales and promotions, and store events.
So when you start sharing your ideas on politics, religion and other sensitive topics, be prepared to send some of your fans running for the hills. If you start spouting off your opinions regarding the U.S. involvement in Syria or your thoughts on Pope Francis's take on marriage equality, you're not only providing a disservice to your customers but to your own business as well. These are hot-button topics, and no matter what your opinion is, you're sure to alienate and offend someone to the point that they no longer want to do business with you.
Instead, make your Facebook audience want to give you their business. Share stats regarding the impact on local economies when consumers shop small. Show your support for other local businesses and demonstrate how your business is involved in the community. And of course, share updates on new products and upcoming sales.
Posting a never-ending stream of self-serving status updates
OK. Don't get mad at me. I know I just told you to post to Facebook to promote new products and upcoming sales. But, you know the old adage, right. Everything in moderation. That certainly applies when your posting to Facebook.
Of course, you should share that information, but if promotions are all you ever post, your audience is going to eventually tune you out and stop engaging with your page.  Keep in mind, your fans turn to you because they see you as an authority in your field.
It's important to share content that not only relates to your business, but that your customers will find value in as well. If you're an apparel store, your audience wants to know the latest fashion trends. A hardware store? Your audience would probably be interested in knowing how to efficiently prep their lawn for the fall and winter seasons. Fans of a pet store, more than likely, would be interested in learning about the benefits of feeding organic food to their furry friends.
So, there you have it. Avoiding these three Facebook faux pas is as simple as demonstrating some common decency.  Be mindful of what you say and how you say it. Know your audience and you can be sure your fans will stay fans.