What's trending in retail displays for 2021? After a tumultuous 2020, chaotic is out and tranquil is in. So is hope. Retail displays that evoke soothing, positive emotions will capture attention. From a practical standpoint—and yes, practical is in, too—ecological sustainability is an obsession for many, lending itself to tactile and sensory-rich displays in the warm tones of earth, sky and sea. According to PPG Paints, the 2021 paint color palette comprises natural and serene colors that reflect wellbeing, sustainability and human connection.
The power of well-done visual merchandising can't be understated. When you tap into the zeitgeist in an authentic way, you can boost in-store sales and—bonus!—attract new customers through the magic of viral media. Beautiful merchandising begets beautiful social sharing. Gen Z is a master at that, and here's an interesting finding from Kearney research into retail trends—they want to shop in-store because it gives them the opportunity to disconnect from social media and the digital world (I know, there's a bit of irony there, but they still reconnect at some point and share, share, share).
Trend One: Tranquil
Close your eyes and envision a spa. Muted colors, a curated selection of products in beautiful containers arranged just so, greenery in the form of a single exquisite leaf or flower, soothing music in the background… Now, extrapolate that feeling into your retail environment. No matter what you sell, there is a way to display it that lends itself to a calming experience—yes, even auto parts, electric guitars and tattoo ephemera. Clear acrylic display risers are perfect for creating tranquil displays because they call attention to the product, not to themselves. Arranged symmetrically and showcasing like objects (whether in size, use or color), they lend a sense of serenity to a tableau. Pedestals also work well. They showcase a single object, which automatically eliminates visual clutter.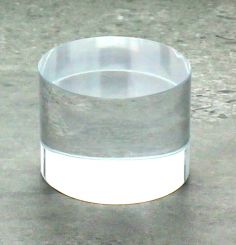 Acrylic display risers come in many heights, dimensions and colors, including optically clear, and can be used to elevate items in a visual merchandising display.
Trend Two: Positive
Color plays a big role in creating a merchandising display that exudes positivity and hope for a bright future. Color theory can be easily extrapolated into whatever palettes are trending. A complementary pop of color in an otherwise neutral-toned retail display provides a dash of élan without creating a jarring visual cacophony. And 2021's nature-based hues aren't simply neutrals—that pop of color could be morning glory, raspberry, emerald or midnight sky. Consider incorporating text into your display, too. A thoughtfully chosen word in the right font on a beautiful image can go a long way in influencing a mood. You can also etch words, sayings, poetry (just about anything) onto any acrylic surface to nestle into the display, attach to the wall or hang from the ceiling.
Trend Three: Practical
Three things are driving this trend: the uncertainty of people's personal economic situation, the desire to simplify one's life, and the need to get through a multitasked-to-the-hilt day without going crazy. There are two ways to manifest "practical" in your visual merchandising display—go 100% pragmatic with all the products, or include a few helpful, related items in the array. Google "practical things you never knew you needed" to get your juices flowing.
Trend Four: Eco-friendly
You'd have to have been living under a (very hot) rock to not grasp the ubiquity of global warming and related topics like species extinction, the true food movement, green energy, etc. The vibe of your visual merchandising can reflect that in any number of ways—color, textiles, imagery, product names or descriptions highlighting sustainable ingredients, labor practices or manufacturing processes. Think about how to use signage displays, too. They're a great way to add information and tout your environmental bona fides, regardless of what you sell.
Trend Five: Sensory-rich
When you're working through your visual merchandising scheme, don't forget your other four senses: touch, smell, sound and taste. Any product can lend itself to one or more of these. Be careful, though, not to veer off into sensory overload—the idea is to complement, not overwhelm. Keep the tranquility trend in mind. Encouraging people to experience the tactile nature of the products—in other words, to touch or pick them up—can draw them further into the experience. For items you'd rather not have customers touch (for instance, cupcakes), incorporate sights, music, scents or even vibrant product descriptions—bring their imagination into play.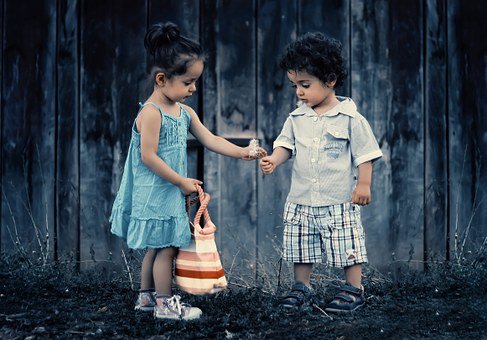 Adding signage (images, graphic elements, text, etc.) to a visual merchandising display can evoke strong feelings and influence purchases.
Trend Six: Human Connection
If there's anything we've learned over the past year, it's how much we value our meaningful relationships. Anything you can do in your visual merchandising display to give people a sense of human connection will be a welcome subtle touch in 2021. Retail displays come in all shapes and sizes. Get creative—a jewelry stand needn't hold just baubles, partitioned trays can organize anything, and display boxes can incorporate the unexpected into the mix. For example, a terrarium inside an acrylic box in a cooking gadget merchandising display can highlight the farm-to-table aspect of the story.
Whichever type of visual merchandising scene you choose to create, acrylic displays are the perfect way to organize and showcase products and complementary elements. Acrylic is sturdy, stronger than glass, shatter-resistant, lightweight and optically clear. It's also exceptionally customizable and can be colored or etched to enhance your brand and the visual story you're telling. The consultants at shopPOPdisplays can help you choose the perfect acrylic display from their catalog or produce custom displays to exacting standards in any shape or size.
Ray Ko is the Senior Ecommerce Manager at ShopPOPDisplays. With years of experience in the retail space, Ray is an expert in formulating and implementing e-commerce strategies to increase revenue.