At SnapRetail it is our goal to develop a product that is changing and evolving constantly; today is no exception.  Our email padding feature now gives you control over the look of any widget within our email editor.  Looking to remove padding altogether to gives a modern and fresh look?  We've got you covered.  But, wait, how else can you use this new feature?
Read below for more information and tips that will help get your emails noticed (for all the right reasons)!
How to Incorporate Padding Into Your Email's Overall Design
You can now edit padding, but how should you start to really make use of this simple, yet powerful, feature?  The first rule: consistency.
Keep Your Padding Consistent
While this rule can be taken lightly, it still matters a great when dealing with email design. By keeping padding consistent throughout the email, balance is achieved. In the example below, each of the three images contains 20px of padding between.  The spacing gives the email balance and symmetry – all things that the eye loves to see.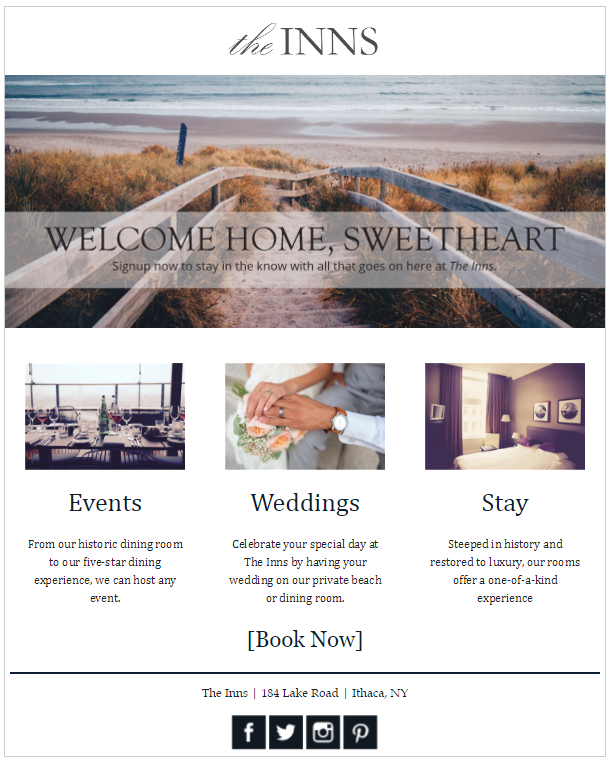 Incorporate Whitespace Into Your Design
Most people view whitespace as a negative when it comes to email design.  After all, with a short amount of time and space to grab your customer's attention, why waste the prime real estate on white nothingness?  Wrong.  Whitespace helps guide customers to the areas you want them to see – driving focus to what truly matters.
Not only does it allow you to help guide customers to the correct information, but also it provides structure and organization. Think about the paragraphs in this blog post. Each has a section of white space separating them, making it easier to read and comprehend. Just as with these paragraphs, whitespace is amazingly effective at breaking up design elements (photos, icons, text, etc).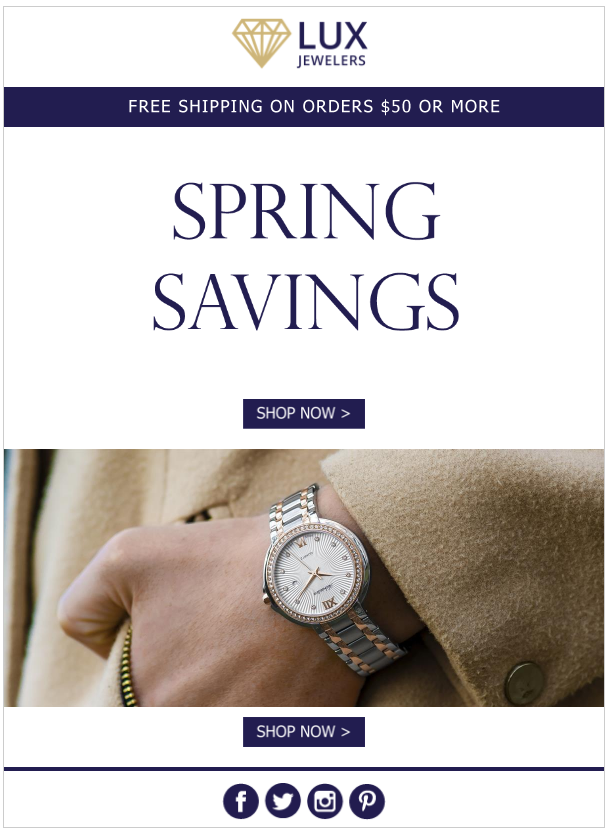 Give a Modern or Classic Look (with padding)
The padding within an email can tell customers a lot about your business and image. Removing padding altogether gives a modern look to your brand. For example, the email below removes all padding between images, creating a bold and sleek look.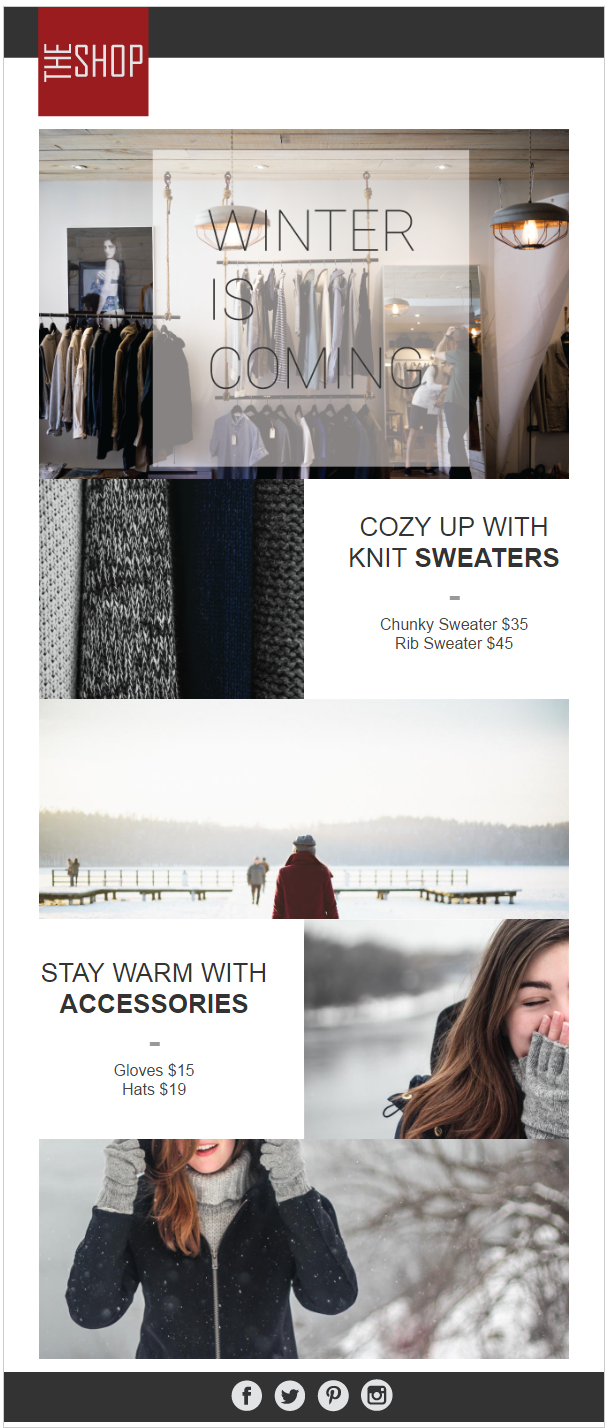 What about the inverse? Inserting a great deal of padding, while it sounds crazy, can really work to your benefit. Below is an email example that gives a great deal of padding to the email body text.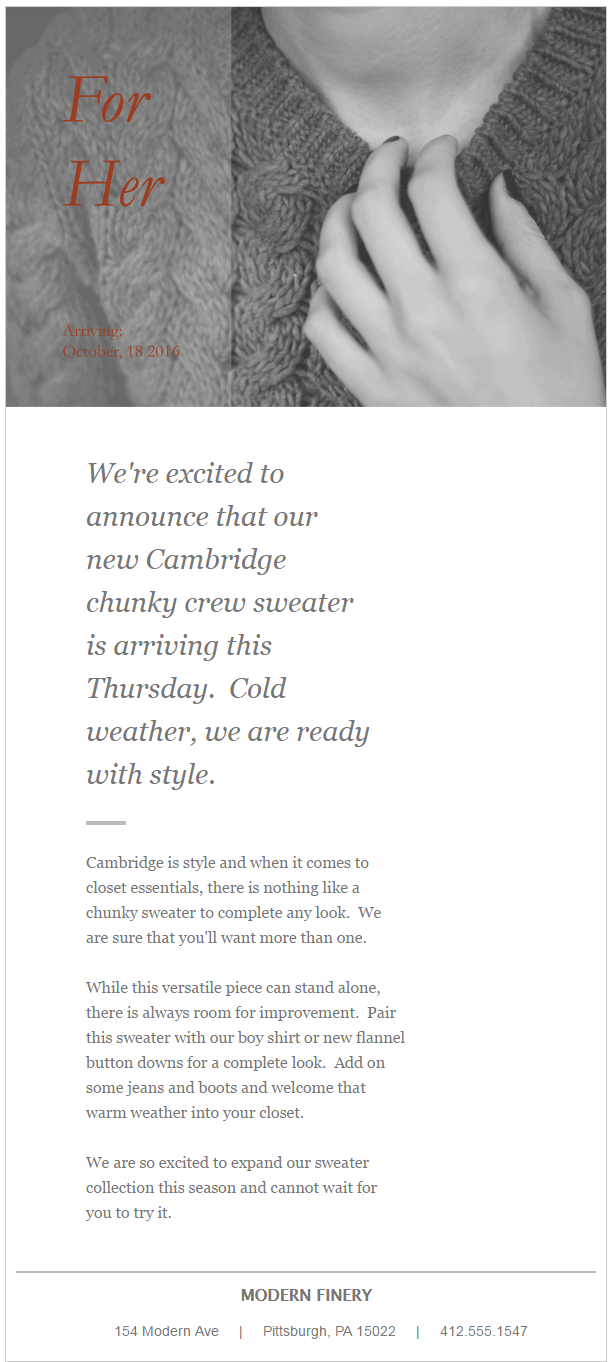 Now that you have the tools and knowledge, put them to use!  Log Into your SnapRetail account today or Sign Up for a free trial and try it out!