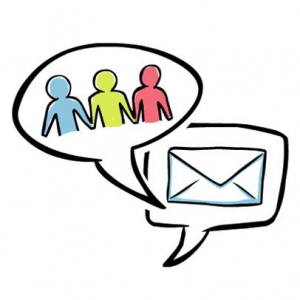 Years ago, your big-box competition had a monopoly on advertising. They inundated potential customers with 30-second television spots highlighting their low prices and must-have products. They followed up with billboards showcasing a season-specific product that their customers could not live without.
Soon after that, they looped in email campaigns and eventually added perfectly synced social media posts to consistently remind their customers when and why to come into the store. Social media closed the marketing loop, keeping customers connected to their brand on a platform that was once primarily used to keep in touch. Big-box stores have big advertising budgets, and they know how to spend money effectively on integrated campaigns that engage their customers in every possible way.
That was then, but this is now. These days, just as the shop local movement gains traction, you have the power to created integrated digital marketing campaigns. And we're here to help. Integrated marketing practices are vital for a few reasons, the first of which is that consumers are used to multiple touch points. Before making a purchase, they often receive an email, research the product online, see what their friends have to say about it on social media and price-check multiple stores. If you can position yourself as the source of the product and the answer to all of their questions, you gain their trust and their business.
Social Sharing Enhancements
If you're a SnapRetail subscriber, you know that your customers can sign up for your email list via your Facebook page and are directed to your store's social media accounts each time they see your store's name in their inbox. At the end of April we updated SnapRetail in a few additional ways to help you close the circle, just like your big-box competitors are doing. Previously, after creating a Email Template in your SnapRetail account, you had the option to also post it to your Facebook or Twitter page. The corresponding image was little more than a shrunken version of your completed email with a link to the campaign's landing page to view it full size.  It wasn't optimized for consumption on social media sites. Now you can select an image from your email message and customize the message that posts with that image. You know your customers, so this is where you can engage them with a post that reflects your store's personality. This is also a great way to highlight one season-specific product that will catch someone's eye as their scrolling through their Facebook News Feed.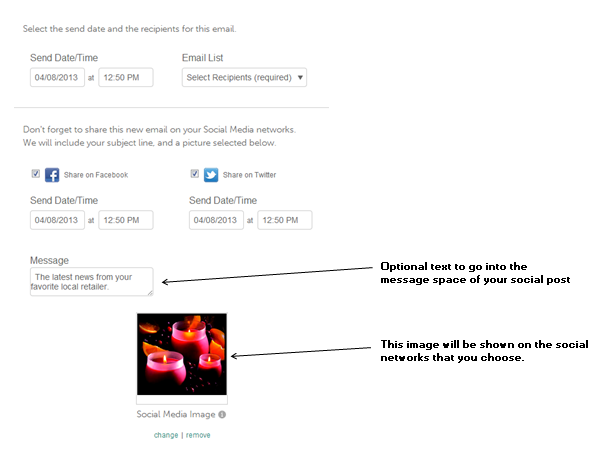 Facebook is progressing visually. We chose to make this change to keep ahead of the curve, and keep you ahead of it too. An image-based viewing experience is aesthetically pleasing and encourages interaction between you and your customers. In fact, according to Hubspot, Facebook posts with a photo generate more user engagement than those without.
Another recent product enhancement that we've made is the addition of a "Like" button to your email landing pages.  For customers who prefer to view messages in their browsers, they can like and share that particular message with their Facebook friends and Twitter followers. Remember, each time a customer (or potential customer) does this, it's a stamp of approval for your store, and your exposure is increased.
More and more, Facebook and Twitter have become small businesses marketing's bread and butter, without regard for the way the two platforms interact with an email strategy. Research consistently shows us, though, that email and social media work better together than they do apart.  In fact, emails and landing pages that have social sharing options or links to the business' Facebook and Twitter pages have significantly higher click-through rates than those without. Take a look!
Remember this the next time you're creating your monthly newsletter, or sending a new product announcement. And if you need a few pointers, give our marketing consultants a call (877-459-SNAP) or take a look at the article below!
Social Media Examiner: 9 Ways To Integrate Email and Social Media Marketing